7 Best Video Platforms and Tools for Coaches
Brian Casel
·
July 21, 2022
FACT: Video coaching is a thing, and there's plenty of data to prove it.
Just last year, a study by the International Coaching Federation found that in-person coaching sessions decreased by 82%.
Video took over.
According to the study, coaches increased their use of video platforms for coaching by a staggering 83%.
But clients seem to have embraced video coaching too. In a recent study by HR.com, 74% of respondents considered video coaching equally or even more effective than traditional coaching.
So, if you're still on the fence about which video platform to use or want to find a better solution to your current tools, this guide is for you.
You'll discover 7 fantastic video tools that help coaches scale client communication, improve coaching strategies, and even deliver complete training programs.
Before we get to the good stuff, though, let's briefly discuss those different ways to use video in coaching.
3 approaches to coaching with video
What we refer to as video coaching actually includes three ways we use the medium to work with clients:
#1. Holding live video coaching sessions
Live video coaching works just like traditional in-person sessions. The only significant difference is that live video sessions happen virtually over tools like Zoom or Google Meet.
But you and the client still meet in real time. You get a chance to work together, discuss and review progress, share ideas, and collaborate, just like you would in traditional coaching.
Coaches turn to live video sessions for several reasons.
The recent pandemic made meeting clients in person impossible for some time. So, working with clients on Zoom was often the only way to keep your coaching business going.

Live video sessions offer more flexibility when it comes to scheduling too. You can hold those sessions anytime and practically anywhere. Neither you nor the client has to budget for travel time, etc., and you can even schedule sessions between other appointments.
However, just like in-person meetings, video sessions can take up a lot of space in your calendar. With a growing practice, you will eventually struggle to book more such meetings.
Another drawback of live video coaching is that you and the client can struggle to retain information during those calls. Information often gets lost in the heat of the discussion, and you might not capture everything in your notes.
#2. Working with clients asynchronously (with video)
Asynchronous coaching offers an alternative to both traditional and live video coaching.
It's a flexible method of coaching in which you conduct back-and-forth video communication with clients without the need for either of you to be present for it at the same time.
Using tools like Clarityflow, you record a video clip and send it to a client to watch later and respond to you (also on video) without needing to communicate in real time.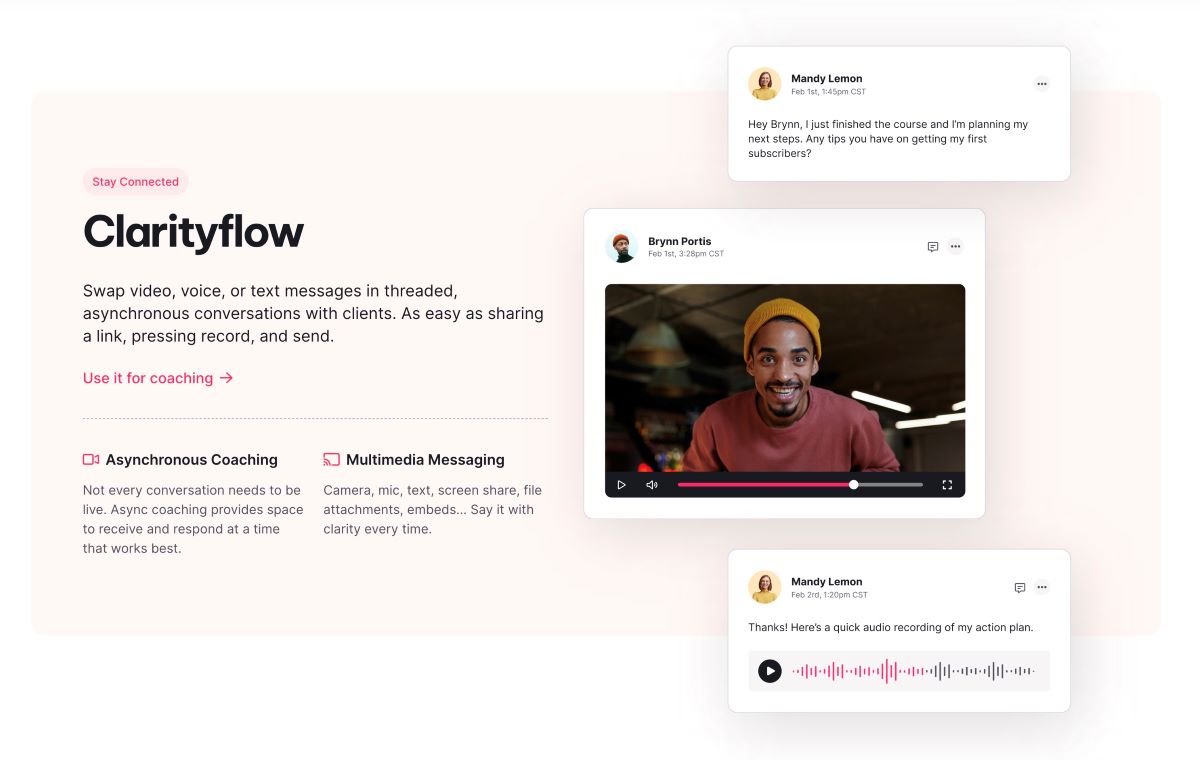 Important - asynchronous coaching isn't a strategy to replace either traditional or live video sessions. Instead, coaches use it to supplement and enhance their usual client communication.
And there are some good reasons for that:
First of all, asynchronous video coaching allows you to scale client engagements. You can conduct certain conversations asynchronously and free up your calendar for more live meetings.
Asynchronous video also helps you scale group coaching since you can record and send messages to all participants at once.
And finally, asynchronous video coaching improves the quality of your service in several ways, too:
With tools like Clarityflow, you can record and share your screen, turn on the camera, or do both and provide greater context to the topic of the conversation.

With intake forms, clients can send videos to you and show whatever issues they're facing as they are happening.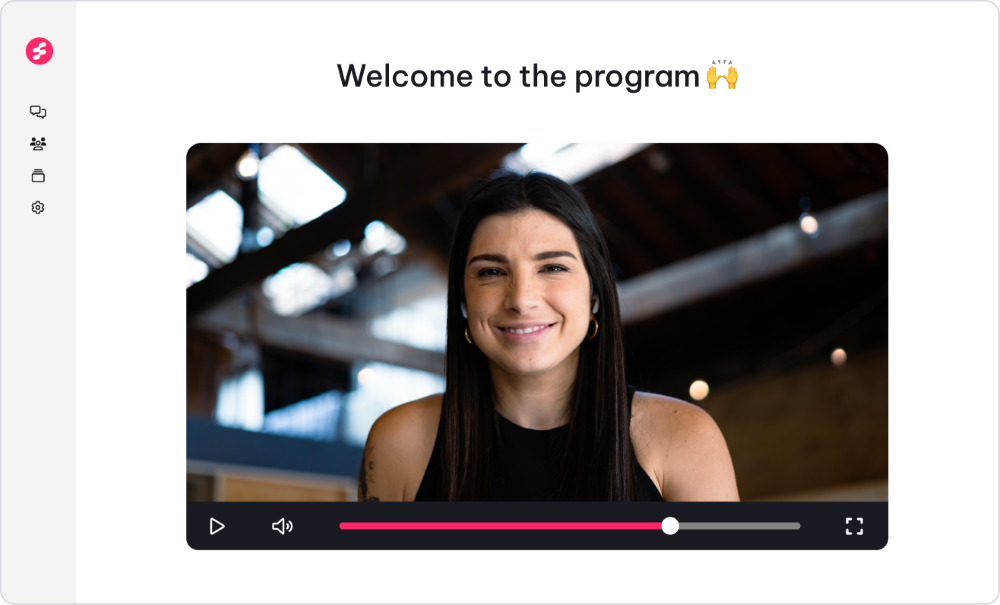 Some other use cases for asynchronous video coaching include:
Answering client questions.

Scaling back-and-forth conversations while providing more context than you could in an email, for example.

Sharing updates to individual clients or groups, and more.
What is important is that you can do it all with async video coaching without having to book another call into your calendar.
#3. Self-serve video coaching
The first two approaches focused on an actual interaction between you and the client.
In a live video session, you two meet and work together. When meeting asynchronously, you still conduct a conversation. It just doesn't happen in real time.
The self-serve approach is different. It focuses on creating a catalog of relevant video content, courses, explainer videos, etc., that your clients can access anytime they need this information.
A major benefit of self-serve videos is that they allow you to deliver more value to clients at scale. For clients, these videos deliver flexibility. They can access those whenever they please (or at a time you made a particular video available to them.)
The most common examples of self-serve coaching videos include:
Niche courses,

Bespoke coaching programs,

Exercises,

Quizzes, etc.
As for drawbacks, the only major problem with self-serve videos is that they take a considerable time to create. Also, since they are general and created for all customers, they do not always work for every coaching engagement.
Combined, these three approaches to video coaching combined allow you to:
Create a catalog of relevant video content for clients

Record custom videos to answer their questions or to address a particular issue

Receive client uploads and videos of themselves or the problem as it occurs to provide you with more context and get feedback

Share and review assignments

Conduct back-and-forth conversations and more.
And here are video tools that help you do that.
7 Best Video Coaching Tools and Platforms
#1. Clarityflow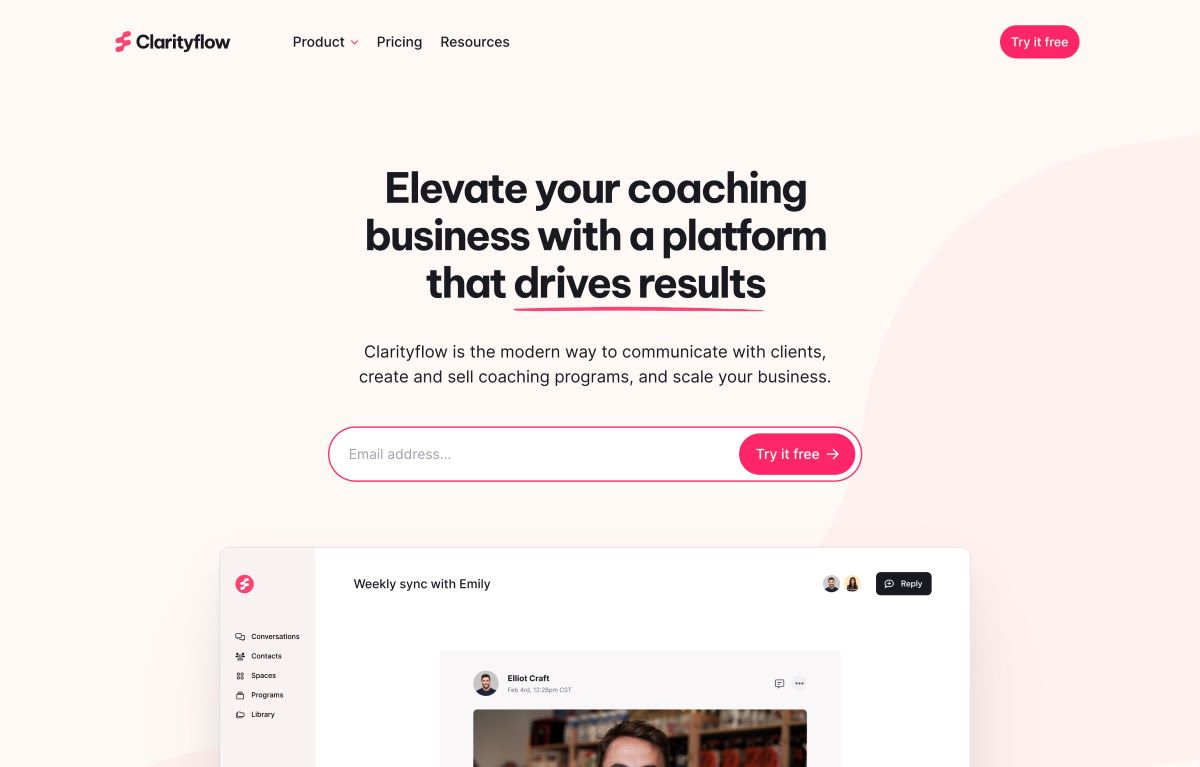 Clarityflow (disclaimer – this is our tool) is an asynchronous video coaching platform for recording and sharing video messages with clients.
We've built to help coaches like you scale your business and coach more clients without booking more live calls and meetings.
With Clarityflow, you can embrace asynchronous communication and exchange messages with clients without having to be present for it in real time.
Take a look at these fantastic features making Clarityflow the perfect choice for coaches:
Threaded back-and-forth conversations on one page. Clarityflow lets you give each client an official space to exchange messages asynchronously.

Screen sharing, camera, and audio. Record and share your screen, turn on the camera, or do both simultaneously to send clients progress updates, hold Q&A sessions, or even simple check-ins without jamming your calendar to the brim. 

Conduct 1-on-1 or group calls. Create a video, generate a personalized URL, send it to a group of clients, and scale your reach.

Personalized URLs. Customize URLs per your calls or set your Clarityflow link as per your brand name.

Privacy. Mark your asynchronous video link as private if you want a selected group of people to see your videos.

Ease of use. Your clients don't have to sign up or download anything to use Clarityflow with you.

Automatic transcriptions. Quickly capture everything in the conversation with automatic transcriptions for all videos.
Clarityflow also integrates with Slack, Zapier, Chrome, and Firefox; you can even embed video conversations on your website using a simple HTML embed code.
Want to give clients more face time without having to book more calls? Check out Clarityflow, a dedicated video coaching platform for back-and-forth client communication.
#2. TrueCoach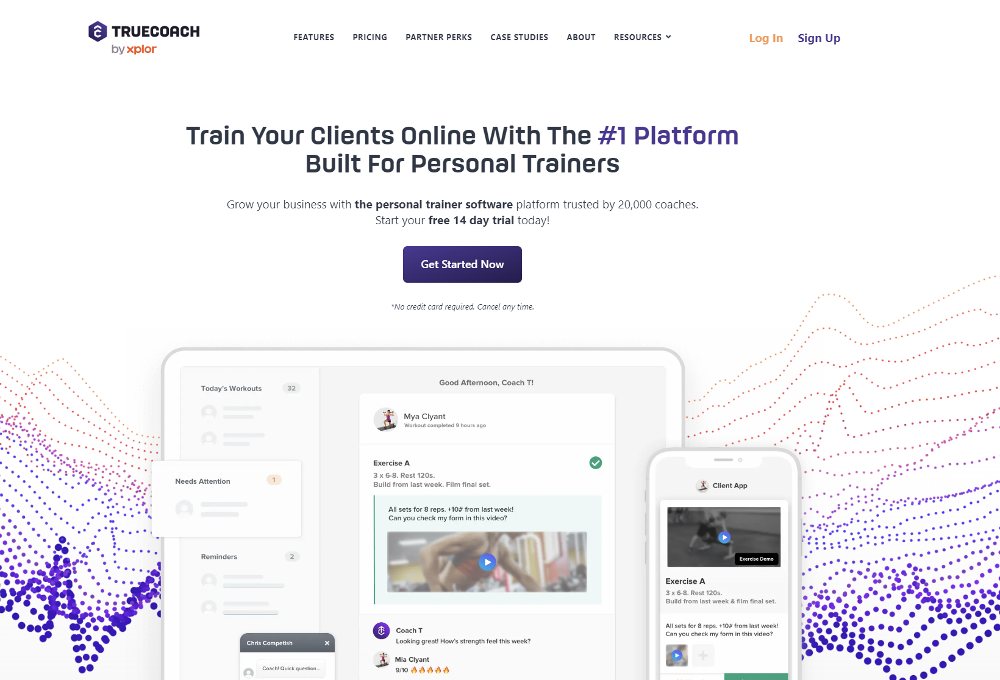 TrueCoach is a video coaching solution created for fitness, health, and well-being coaches.
Its core features include a workout builder that lets coaches deliver personalized workouts to clients, an exercise library that your clients can access, and real-time messaging to provide feedback when necessary.
On top of that, TrueCoach provides customers with various admin tools to automate client engagement.
Worth to note that even these are generally optimized for health and fitness.
So, in TrueCoach, you can use various client management options, send them email notifications, track client progress, set nutrition goals, and track progress, etc.
#3. NudgeCoach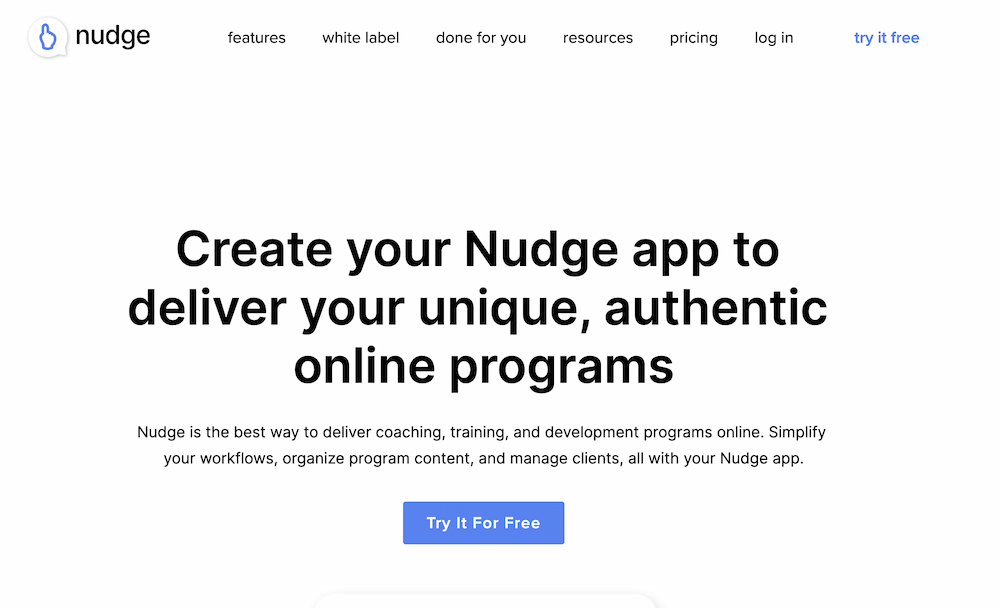 NudgeCoach is a powerful tool for coaches who want to create and deliver coaching programs online. The platform allows you to record and organize course videos and manage your clients. And because NudgeCoach started as a habit-tracking app, the platform also includes functionality to plan fitness programs, track nutrition, and track client goals and progress.
NudgeCoach is highly configurable so that you can make it work the way you want. However, this is also one of the platform's major drawbacks. It requires you to invest a lot of time and effort to set it up and tune it to your needs.
That said, NudgeCoach offers a quicker way to get your program up and running with their done-for-you service. The company's experts can build programs with your unique content so that you can launch the online course faster.
#4. Thinkific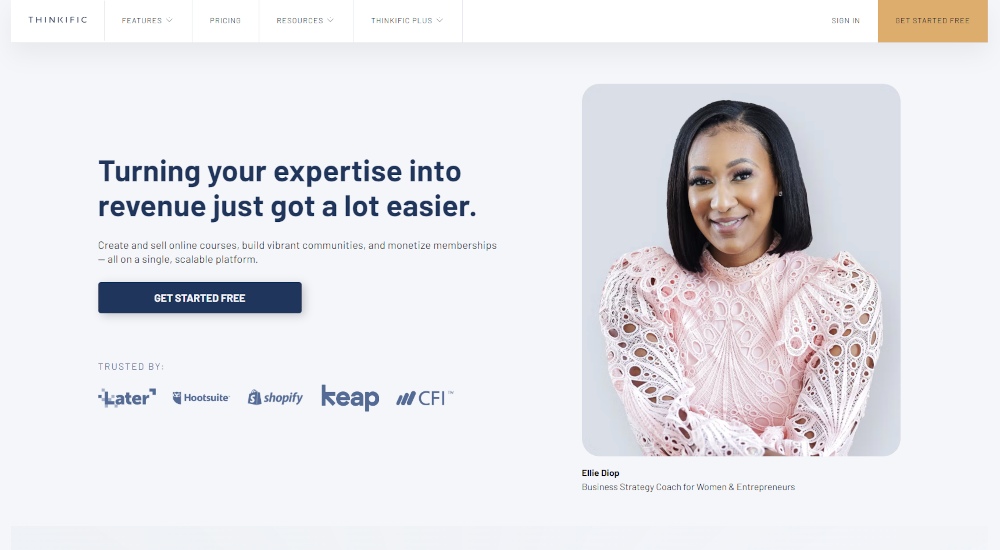 Thinkific is another platform for coaches who want to create and launch online video courses. Because of its laser focus, Thinkific comes packed with features that make the process easy and quick.
You can start designing your course with a ready-made template, manage the course structure and content with a simple drag-and-drop interface, and even create a custom website to promote your program.
What's more, Thinkific features an App store where you can find additional tools and integrations to help promote the course and your coaching business.
#5. Coaches Console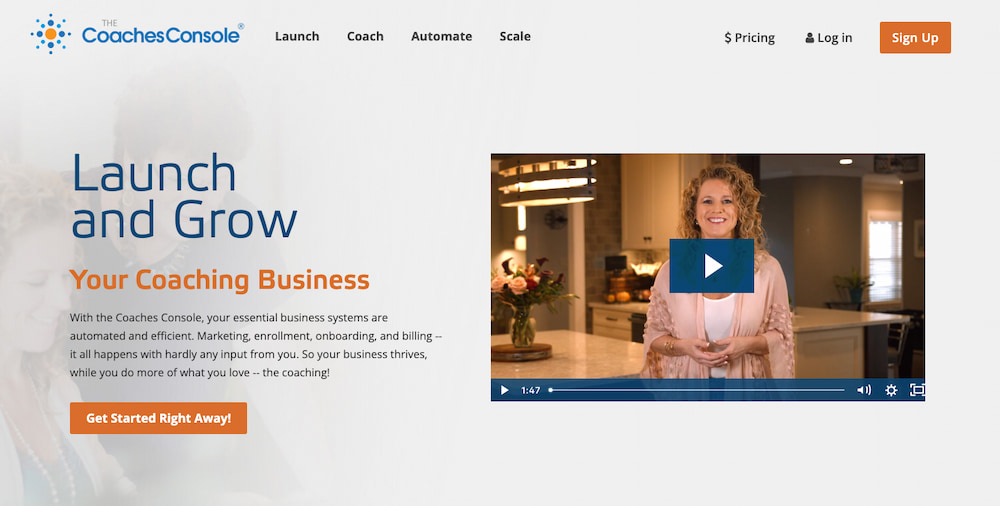 Coaches Console is more than a video platform. It's a complete solution to start, manage client relationships, and grow your business.
Coaches Console includes a course builder that lets you design, launch and sell online video courses as part of its extensive feature set. The platform also provides tools to support clients before and after the course with pre-work options, recap forms, goal sheets, and more.
#6. Coach Catalyst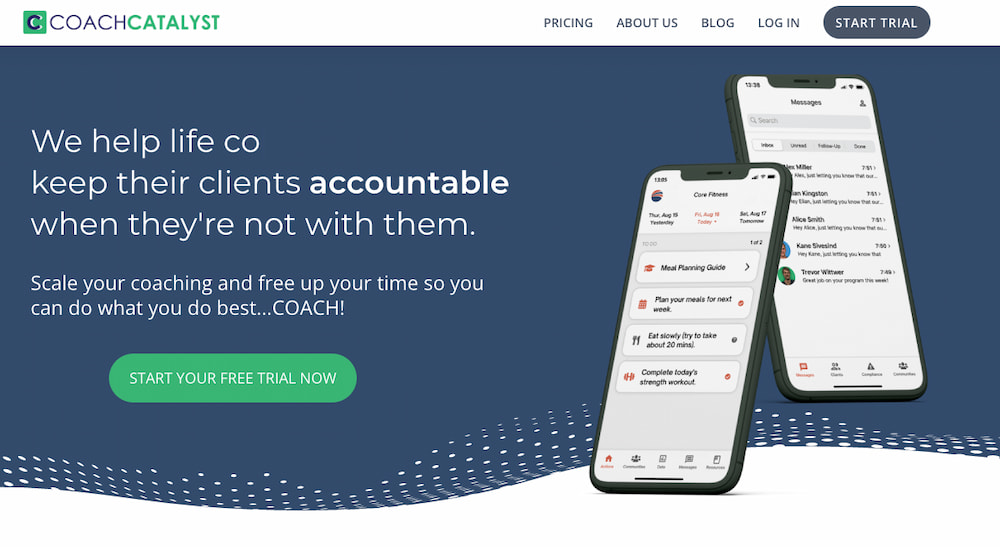 Coach Catalyst helps health, wellness, fitness, or nutrition coaches keep clients accountable and motivated.
For that, the platform provides coaches with tools to monitor client results, check compliance, and review progress metrics.
However, on top of that, it also features various video capabilities that you can use in your business. So, with Coach Catalyst, you get access to workout builders where you can create custom courses for clients, video libraries of existing workouts to share with clients, and communication tools – including the ability to send video messages to clients or groups. What's more, you can schedule those messages for a group or individual clients and ensure that your videos will reach them at the best time.
#7. Quenza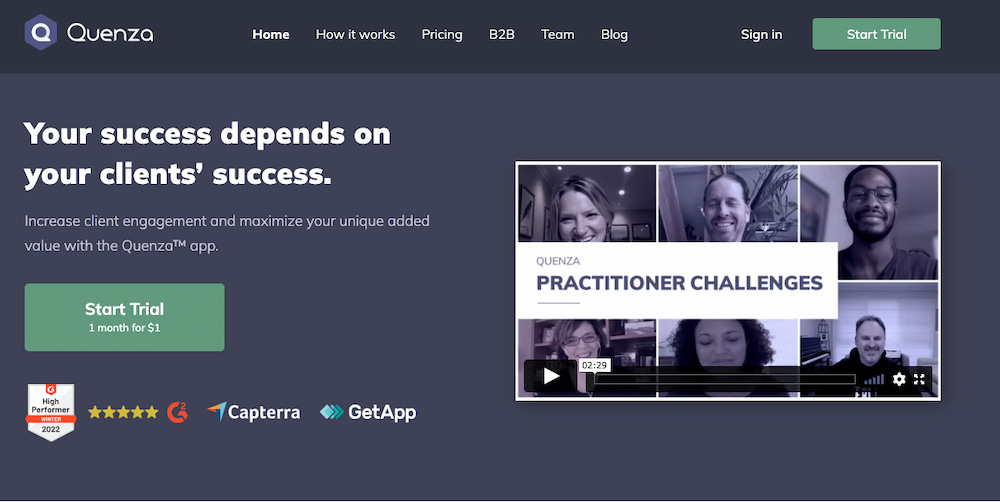 Quenza is another tool that focuses on ensuring that clients stay motivated and do what they're supposed to do between sessions.
With Quenza, you can create exercises, give them = homework and other activities, and more with a simple drag-and-drop activity builder. You can add video and other media (audio, images, etc.) to explain the activity and provide guidance for each of these. You can also send clients additional learning materials, measure and evaluate their progress by collecting feedback, and more.
And there you have it…
These 7 tools will help you embrace the different ways of video coaching – scale your client communication, launch online courses, or provide additional feedback and guidance to clients.
What's left is to try them out and select which ones you want to start with.
Good luck!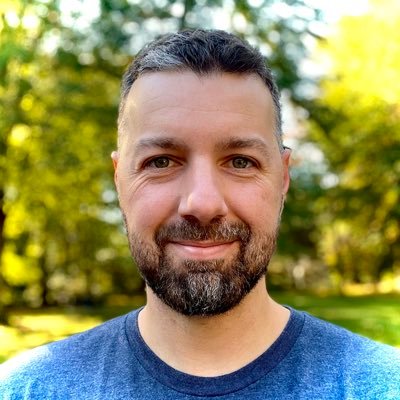 About the author
Product designer and founder of Clarityflow. Writer and entrepreneur who coaches fellow entrepreneurs on starting and sustaining businesses in software and services.