Group Coaching: How to do it right (and a step-by-step guide to getting started)
Kat Boogaard
·
September 8, 2022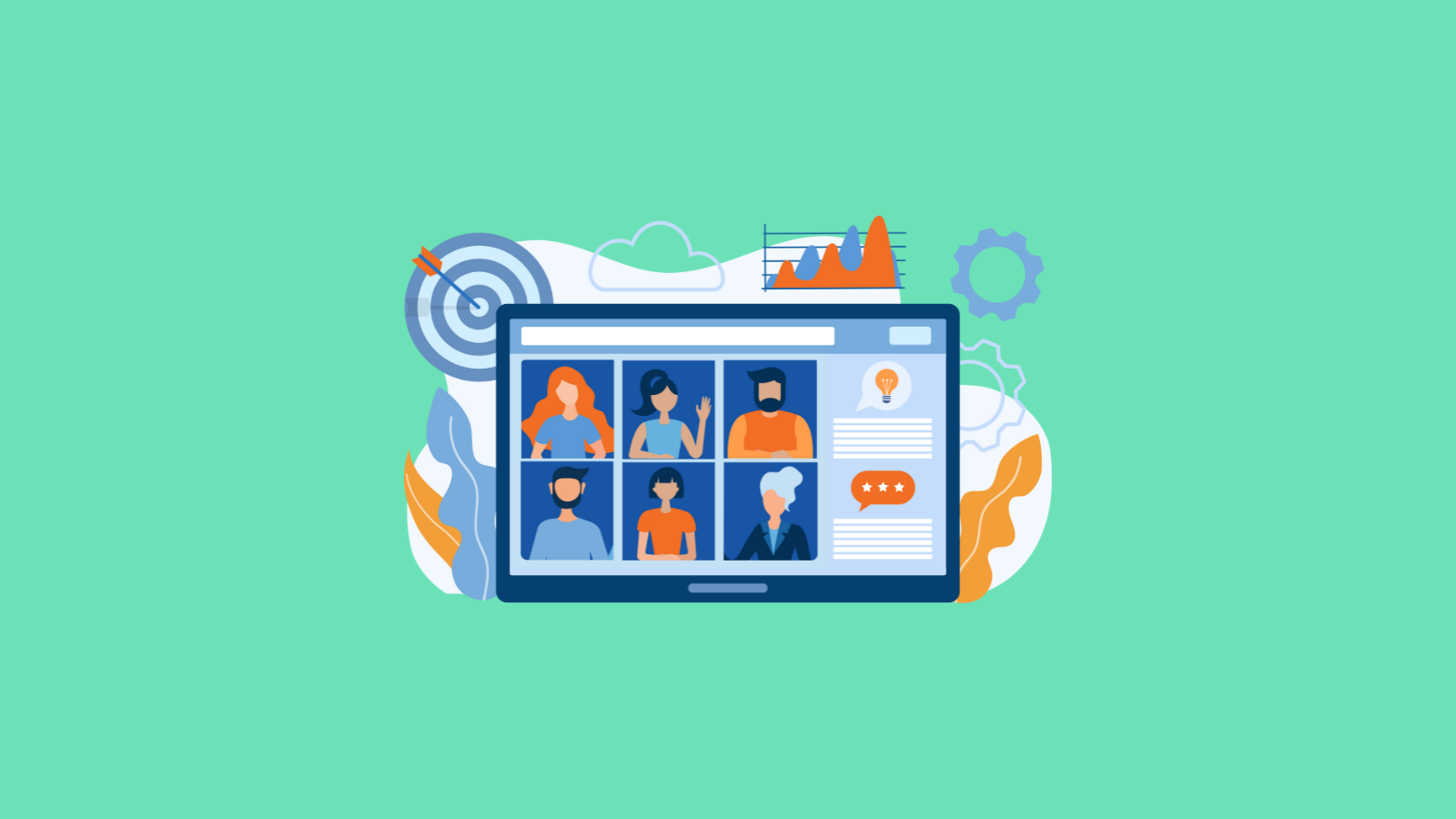 As a coach, you're passionate about helping people. 
And, if you could find a way to help even more people — without having to work around the clock or clone yourself – that's the dream, right?
It's exactly why many coaches roll out group coaching programs. 
Because it's an effective way for them to: 
scale their businesses, 

multiply their time, and 

use their expertise to impact more people.
But what does it take to put together a program that offers the support, advice, and encouragement you pride yourself on without needing constant one-on-one interaction?
If you're wondering what it takes to create and run an excellent group coaching program or simply want to explore whether it's right for your coaching business... 
Dig into this guide because we've got some answers for you!
The Power of Group Coaching: What it looks like in practice
Group coaching is a program created for a cohort ("cohort" is a term you'll hear come up a lot in the group coaching space, by the way) of people all working through a similar problem or experience together. 
As a coach, you can offer resources and sessions in a one-to-many environment rather than coaching individual clients exclusively with one-on-one interactions.
This makes it highly collaborative. And, potentially, a higher value experience than 1:1 programs.
Participants gain wisdom from you as their coach. As well as the other people in their cohort who have similar challenges. 
And all that extra built-in accountability and support from group members can be game-changing. 
Here's a quick look at some of the most notable differences between group coaching and individual coaching: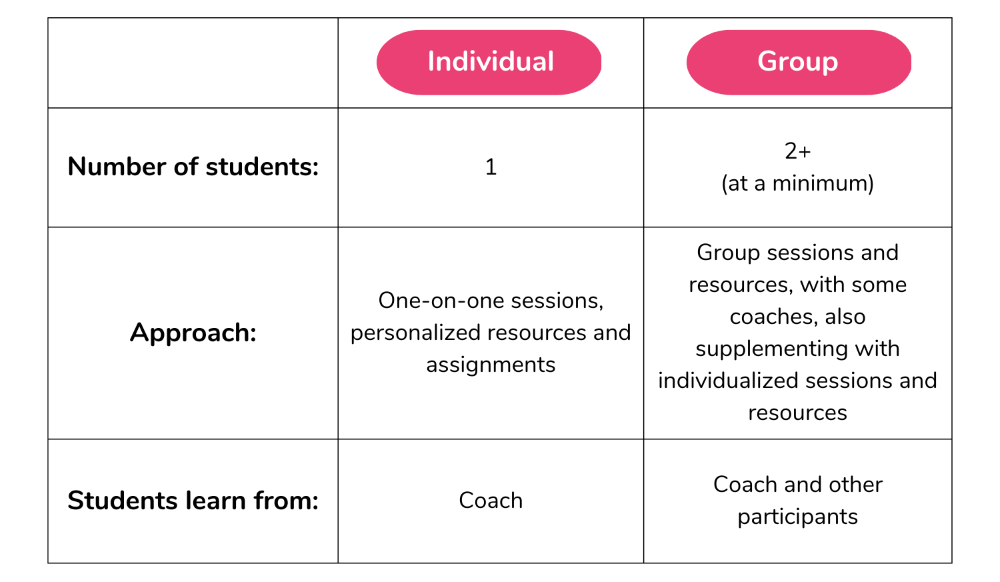 Group coaching is pretty straightforward, but here are a couple of examples so you can see what this looks like in the wild: 
A wellness coach puts together a nutrition group coaching program with weekly educational sessions, challenges, and assignments. And a Slack channel where participants can share recipes and advice.

A finance coach offers a group coaching program focused on building an emergency fund, including a self-paced course and monthly collaborative sessions with other group members.

An executive coach works with a team at a growing company, holds weekly coaching and coworking sessions, and uses Clarityflow to give individual (async) feedback.
Scale without Sacrifice: The four big benefits of group coaching 
Group coaching doesn't mean sacrificing the attention and commitment that your clients expect from you.
And although it might feel like a departure from super intensive and personalized sessions, it still offers plenty of benefits – for you and your clients.
Group coaching benefits for coaches:
Grow your business: Group coaching allows you to help more students. It's an efficient way to share your expertise and advice. Without having to cram your calendar full of one-on-one sessions.
Challenge yourself: A group coaching program can also help you stretch yourself as a coach. Leading a cohort is a different experience than the highly-individualized approach you might be used to. This makes it an excellent opportunity to think about your offerings and your business in a new or different way.
Group coaching benefits for participants:
Get additional guidance and feedback: The biggest perk for your participants is that they don't just have access to your insight and experiences — they also benefit from the group dynamic. Creating a space for members to ask and answer questions, share notes, and discuss goals and challenges provides more takeaways for all participants (this is a huge win!)
Experience solidarity and support: Group members can lean on each other for encouragement. Change can be brutal. And feedback can be hard to hear. Group members can take comfort in the fact that they aren't dealing with all that alone.
Is group coaching the right fit? Three things to consider
Ultimately, you're the only one who can answer that question. 
But it could be the right fit for coaches who: 
Deal with a subject that meshes well with a collaborative approach. A group environment isn't the best fit if you're addressing a super sensitive or confidential subject matter with your clients.

Are open to fostering and moderating collaborative opportunities. This type of exercise will be new to you, but it's essential to group coaching. After all, people lose a lot of the benefits of group coaching if they don't actually get to engage with the group.

Cover a specific subject. You want your participants to have enough in common, and that's easier if you focus on a somewhat niche subject. You don't want to get so narrow that only two people can benefit from your program – but you want to be focused enough that people can relate to each other. For example, you might have better success with a self-care coaching program for working mothers, than with a generic offering about self-care.
Group Coaching vs. Individual Coaching: Where does it fit?
Not convinced that group coaching is the right move for you? 
We have good news: You absolutely can offer group coaching and individual coaching together. 
In fact, offering a combination of both options is the preferred approach among the coaches we surveyed on Twitter: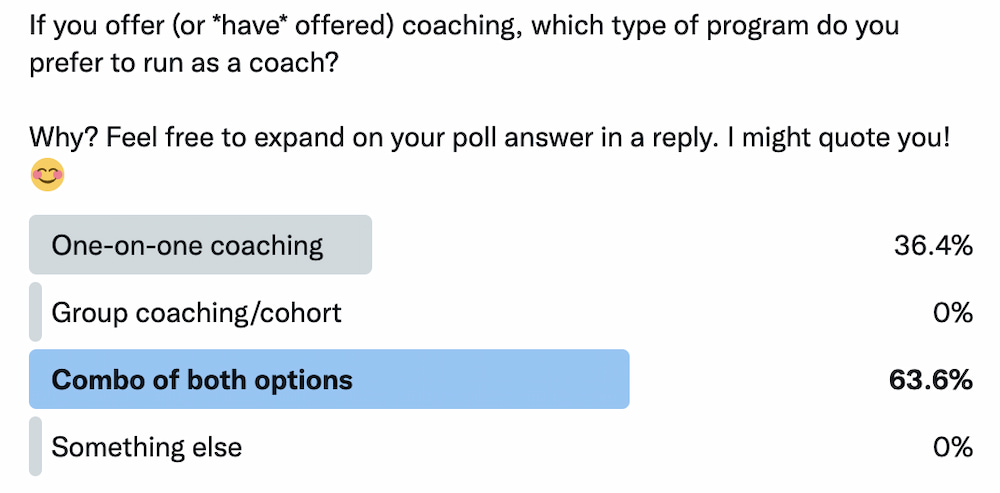 If you choose the combination route, you can create a group coaching offering where participants benefit from the group dynamic. 
And you can supplement that with more individualized opportunities – like regularly scheduled one-on-one sessions. And personalized resources that cater to their specific needs and circumstances.

It takes a little more elbow grease. But, it's an excellent way for you and your clients to get the best of both worlds.
Getting Started: Two critical elements to creating a solid group coaching program
So, you've decided that a group coaching offering is your next step for your coaching business. 
The good news is that putting together this type of program has plenty of similarities to crafting an individual one in terms of mapping out your goals and curriculum. 
But beware! There are some differences too. 
This is why we're going to show you how to get your first group coaching program up and running by focusing on two key elements: 
Structure: what you need to know before you launch.

Operations: what you need to do to run the program.
Let's take a look at them both in more detail. 
How to structure your group coaching program
Group coaching is scalable but requires some upfront elbow grease to get everything sorted out. 
Here are a few aspects you'll need to address before signing on a single student or client:
1. Look for common themes
Your first step is choosing your subject matter.
If you've done individual coaching up to this point, return to your notes from those sessions.
Is there a specific challenge or sticking point that keeps coming up again and again?

For example, maybe you notice that all your business coaching clients have struggled to move beyond the "take what you can get" mentality of the startup phase – to secure more significant, higher-paying projects and clients.
That commonality and shared experience is good fodder for a group coaching offering. Once you uncover a worthy nugget here, make sure you are clear about:
The problem: What are people struggling with most?

The solution: In what ways will your coaching program help them overcome that?
2. Be clear about who your program is (and isn't) for
You have your subject — now it's time to figure out who is best suited to participate.
You might feel tempted to cast a wide net in the interest of getting as many participants as you possibly can. But ultimately, finding the right students can make or break your group coaching program.
The biggest thing? Looking for people who are at similar points in their own experiences. 
As business coach, Chris Lema says: 
"Group coaching can be awesome if everyone is roughly at the same stage of the journey. It can be a crazy amount of work (for the coach) and not feel all that great (for the members) when people are in really different places. So be explicit and clear in advance of cohort design." 
When you know precisely who your program is for, that should come through in how you market and position your group offering. 
Here's a quick example of the difference:
Not specific: "A group coaching program to help you prioritize your self-care."

Specific: "A self-care group coaching program for the busy mom who can't remember her last shower."
See the difference? 
People can tell immediately whether your program is the right fit for them. This means you'll only attract people who have enough in common to benefit from the group atmosphere.
3. Iron out your other nuts and bolts
Of course, there are a few other logistical things you'll need to sort out before you push your group coaching program out into the world. 
A few to consider include:
Participants: How many participants will you allow into your program? Remember that this isn't a numbers game, and you might want to set a limit to preserve value and a safe atmosphere.
"I think five [participants] for one hour is perfect," says Lacey Trejo, a business coach for freelancers. "That should be the max so that you can dedicate some time for each person."
Pricing: Should you charge more or less for group coaching than for individual coaching? Of course, the decision is up to you. However, many coaches opt to charge less since participants aren't getting the same level of one-on-one interaction and access to you as the coach. 
One general recommendation is that group coaching should cost someone 30% of your one-on-one rates, but it's not a hard and fast rule.
Timeline and schedule: How long will your group coaching program run? A month? A quarter? A year? You'll also want to consider scheduling any live or collaborative sessions. Your audience will likely dictate this. 
For example, the self-care program for moms might have sessions after bedtime, while a business coaching program might host discussions during business hours.
How to run a successful group coaching program
Getting your first group coaching program off the ground is a huge step. 
But what else do you need to do once you have some students? 
Group coaching brings along some changes to how you might run and monitor your program; here are a few of the steps to take:
1. Moderation is Key: Prepare to step into the facilitator role
With a group coaching program, you're a coach — and you're also a facilitator. 
You're the expert people trust to provide advice and guidance (something you're well-practiced at by now), but you also need to be prepared to moderate the collaborative aspect of your program. 
That might be a little less familiar to you.
To make the most of those group sessions, ensure that you:
Prepare questions to spark conversations in case participants don't have any

Understand how to steer conversations back on track if tangents throw them off

Know how you'll address any rude behavior, spirited disagreements, and other conflicts
The last thing you want is for the engagement in your group coaching program to drag down the entire experience.
So, you must ensure you prep and feel ready to appropriately manage that aspect, not just the ins and outs of your curriculum. 
2. Easy Knowledge Sharing: Create your client support channel
With one-on-one coaching, you need to manage communication with your client. 
But with group coaching? You're responsible for maintaining clear communication with the whole cohort. And that can get complicated. 
Let's say one of your participants emails you a question directly. But you know the whole group could benefit from your answer. Or, perhaps someone shared an experience with you. And you know everyone would find value in hearing about it.
To increase engagement and foster client breakthroughs – set up an easy place for knowledge sharing and group conversations.
Here's the thing: Your participants signed up for a group coaching program for a reason. 
They want the benefit of the group dynamic. 
That means they're highly likely to share transparently with each other if you give them the opportunity and the appropriate outlet or tool to do so.
Clarityflow makes it easy to create asynchronous back-and-forth threads where people can reply with video, audio, or text messages.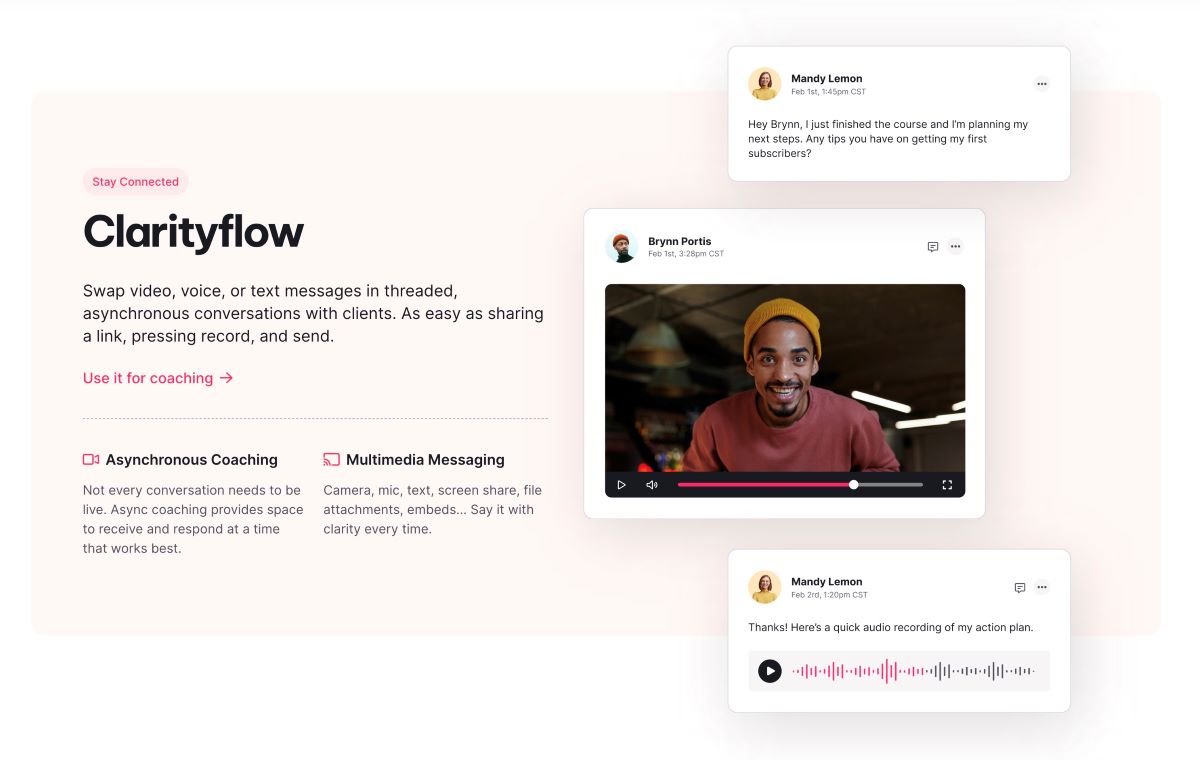 You can set up a Clarityflow conversation for your group coaching program. 

People can use that space to drop their questions or log their own experiences.

You can also reply directly in that thread. 
When you do so, you create a repository of knowledge, guidance, and answers that your students can refer back to and actively participate in. It's way better than allowing brilliant insights and epiphanies to stay siloed in individual email threads or one-on-one conversations.
Of course, you can still encourage your students to reach out to you directly with anything they aren't comfortable sharing with the wider group. 
But everything else? 
It should live in that Clarityflow conversation, so everybody enjoys complete transparency into all of the wisdom shared there.
3. Feedback is Your Friend: Ask participants to help improve the product
You want your group coaching participants to learn — but you're probably going to learn a lot alongside them. 
Particularly if this is your first time running this sort of cohort. 
Want valuable insights you can use to iterate and improve your group offering again and again? 
Ask for feedback from your participants as they get close to the end of your curriculum. 
What was their biggest "aha" moment? 
While any sort of constructive criticism can be tough to hear (nobody knows that better than you as a coach, right?), it's ultimately what helps you design programs that are increasingly engaging and effective. 
To group or not to group? That really is the question
Group coaching scales your coaching business while helping even more people than you could individually. 
It also involves working different muscles than you're used to in your one-on-one coaching practice. 
But, as you'd likely tell any of your coaching clients – growth happens when you try things outside of your comfort zone.
If group coaching has captured your interest, keep this guide in your back pocket and try it. 
It might surprise you how much it propels your business (not to mention your own expertise and confidence) forward.
Want to add more value to your coaching packages (without more live calls)? Run your group coaching cohorts asynchronously with Clarityflow. Grab your free account here.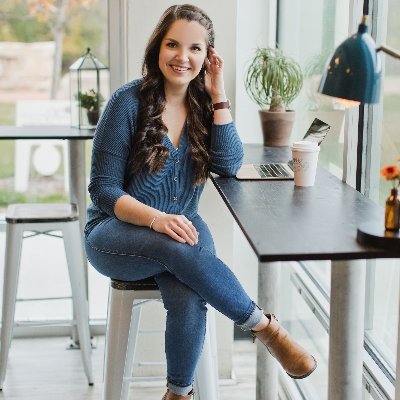 About Kat Boogaard
Writer and coach for freelancers offering tips, guideance and career advice.