How to Get Coaching Clients: 6 Proven Strategies to Fill Your Roster
Kat Boogaard
·
September 30, 2022
You did it. You launched your coaching business or a brand new coaching program. You're fired up, eager to make an impact, and ready to help deliver eye-opening transformations.
But…uhh…where do you actually get new clients?
When you've spent hours crafting a meaningful coaching business, it can be disheartening and discouraging when no one is knocking down your door to join your new program. 
But rest assured, plenty of people can (and will) benefit from your guidance and expertise — you just need to know how to find them. 
This guide will walk you through actionable strategies real coaches use to get new clients. 
Whether you're looking to land your first one or want to continue to expand your roster, these tried-and-tested techniques will help you fill your client pipeline. 
Lay the Groundwork: Three things to know before you launch
Before you go all-in with your latest coaching program, ensure you've laid the groundwork first. 
If you're on the hunt for new coaching clients, we'll assume you've already worked most of these out — but we figured it was worth a refresher anyway. 
We like to think of this groundwork in three steps:
Know your niche

Know your client

Know your offer
#1. Know your niche
It might seem like a wide net is better when you want to attract clients, but in reality, niching down will help:
you craft a highly-targeted program,

nail your messaging, and

find your best-fit clients.
The word "niche" tends to sound limiting, but it doesn't have to be.
Your niche could be a:
Topic: The subject your coaching program covers, such as personal finance or nutrition.

Industry: The industry you serve, such as B2B SaaS or healthcare.

Client: The specific type of client you target, such as new freelancers or busy executives.
…or any combination of the above. 
The point here is to get a solid handle on your subject area. Marketing opportunities can feel endless, so narrowing in on this will help you identify and focus on the ones that are the best fit.
#2. Know your client
Related to the above, deep familiarity with your ideal client is paramount. You should be able to answer questions like:
What are their goals?

What are their challenges and pain points?

What do they need to do to transform their situation?

Where do they spend time online?

Who do they trust for information and recommendations?
If you're not sure how to find the answers to these types of questions, you could try:
Surveying your audience (or someone else's)

Conducting interviews with potential clients (and offering something in exchange)

Connecting with other coaches to get their insights and experience

Searching social media, online forums, and Amazon reviews for relevant questions and challenges people are posting
In short, you don't want to guess or make assumptions about your target clients. 
Spend the time to gather as much factual information as possible. It will help you craft an irresistible offer.
#3. Know your offer
When you've nailed down your niche and ideal client, you'll have an easier time putting together a relevant and impactful coaching program.
But now it's time to figure out what you bring to the table. And how your coaching offer stands out from any other competition out there.
There are a couple of ways to do this:
Get more specific: Are you tired of us saying this yet? It's that important. Branding yourself as a "personal finance coach" doesn't tell people enough about what you do and how you can help them. Revisit your niche and ideal customer to develop something targeted and distinct, such as a "personal finance coach helping people get out of debt."
Demonstrate results: Did you pay off some major debt in only a couple of years? Did you lose 50 pounds through exercise and nutrition? Did you make a significant career change? Clients will inherently trust you more if you've done the hard work yourself, so share more about your journey to establish credibility. As you work with clients, you can also gather testimonials and record results to share in your marketing materials.
And we get it; many coaches worry about feeling slimy or inauthentic with their sales and marketing (self-promotion can be a serious drag.) But with the above approach, you can focus on facts and impact — which will keep you far away from slick marketing tactics.
How to get more coaching clients: 6 proven strategies to fill your client roster
You've laid the groundwork, and now you're ready to spread the word about your new coaching business and start serving clients. 
But you probably know it will take a little more than posting one update to your LinkedIn profile to fill your roster. 
So here are six tried and tested strategies for getting started and landing new clients:
1. Tap your existing network
When you're so eager to market your business, one resource is somehow easy to overlook: your existing network.
You already have a web of personal and professional contacts who could potentially help connect you with clients — provided you ask them to do so. 
"Our first clients came from our inner network," says E.B. Ross, who provides sales training.
Nettie Owens, who offers Executive Leadership Coaching, used a similar strategy of connecting with people she already knew. "When I started coaching, I reached out with a letter to my network [saying], 'Here's what I am doing now,'" she says.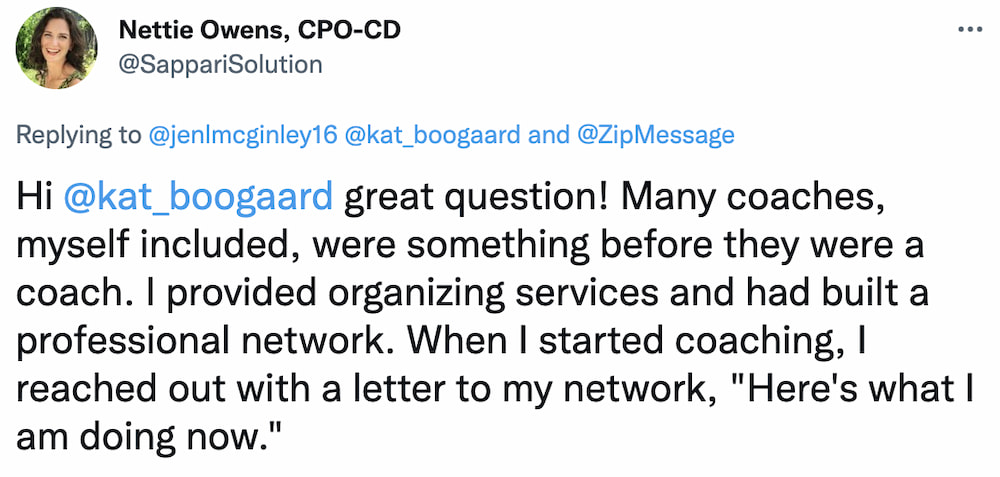 Want to tell people about your business or program without seeming spammy?
While it takes a little more time, it helps to reach out personally rather than sending a generic email blast to everybody.
Here's a simple email template that you can personalize and use to tell your network what you're offering:
Hey [Name],

I hope you're doing well! [Personal anecdote or check-in].

I'm reaching out to share some exciting professional news with you: I launched a coaching business!

My program helps [target client] [achieve/overcome] [goal/challenge]. You can learn more about it here: [website link].

If you hear of anybody looking for guidance in this area, I'd appreciate it if you'd pass along my name and information.

Of course, if there's any way that I can return the favor and support you, don't hesitate to let me know.

Wishing you all the best,

[Your Name]
2. Actively (and genuinely) engage online
Your current network can give your coaching business a considerable boost. But naturally, a lot of your marketing magic will still happen online. 
Knowing where you need to show up can feel overwhelming when there are seemingly endless options. 
So, firstly, remember that you don't need to be everywhere — you need to be where your potential clients seek answers. Return to the groundwork you laid when identifying your niche and target client to figure out where you should invest your time.
Whether you need to be on Instagram and Twitter or LinkedIn and Reddit, here are a few powerful strategies you can use on each platform:
FACEBOOK
Use the search function to find and join groups filled with your target customers. For example, if you're a life coach focused on helping busy moms, you can join mom groups to respond to comments and share helpful content. Pay attention to group guidelines, especially if they have rules about promoting your offerings.

Create your own private Facebook group to establish yourself as the go-to person for your specific topic area. It takes time to build community but can become an incredible asset when facilitated well.
INSTAGRAM
Include your type of coaching in your name (e.g., Susan | Personal Finance Coach) so that you appear in search results.

Create Reels that are bite-sized versions of lessons and advice you give to coaching clients. The smaller the idea, the better!
LINKEDIN
Include your type of coaching in your headline so that you appear in search results.

Post lessons and advice that are relevant to your coaching business. You can also publish articles you've written elsewhere as native articles on the platform which sit on your profile.

Use the search function to find and join groups filled with your target customers.
QUORA
Search for relevant questions to your coaching subjects and provide thorough thoughtful answers.

Craft a killer bio to clarify what you do, and point to your website so that users know where to find out more.
REDDIT
Start an ask-me-anything (AMA) to prove your expertise. Follow up via private messages with people who asked you relevant questions. TIP: Never directly sell your business in comments. Reddit users see right through this and will downvote your post.

Reply to relevant topic threads and share your expertise in a non-salesy way. You want people to appreciate your answers so much that they want to find out more.

Craft a killer bio to clarify what you do, and point to your website so that users know where to find out more.
TWITTER
Use the search function to look for people posting about "[your niche] coaching" and reply to those tweets.

Include your type of coaching in your bio so that you show up in search results.

Create a Twitter list of influencers in your niche and reply to their posts
This isn't an exhaustive list, but it should get you started. And help you feel a little more comfortable connecting with strangers and marketing your coaching business.
3. Offer value (for free)
Your goal is to find paying coaching clients, so offering anything for free feels counterintuitive.
But it's an effective way to establish credibility and build trust. And it's a tactic that most coaches we connected with swear by.
"I started creating free samples—the kinds of lessons I pass on to my coaching clients—just as tweets or other posts, along with an invite to a free 15-minute consult," says Paulette Perhach, a writing coach.
"I hosted a free one-hour seminar called 'So You Want to Be a Freelancer' and welcomed all levels," echoes Alexandra Frost, a freelance coach. "Multiple people asked for more at the end, and I invited them to my coaching program."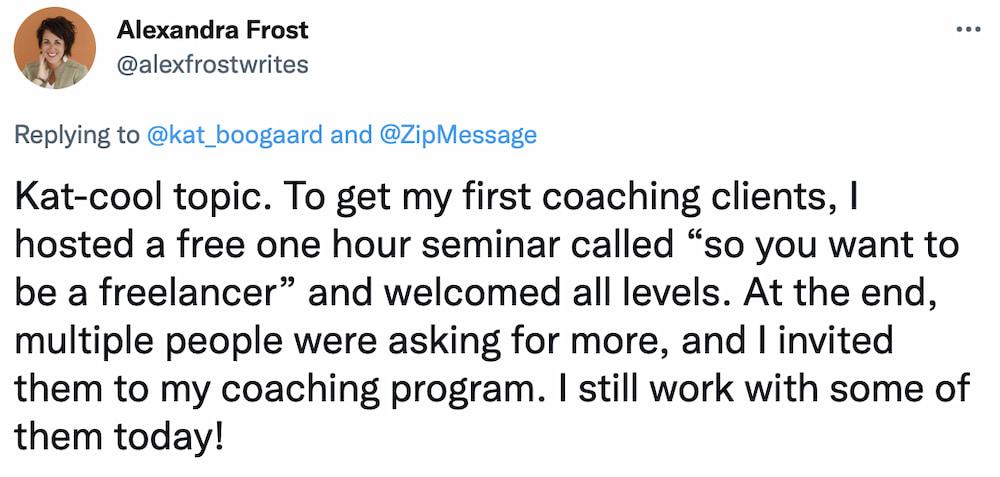 Offering free value is an effective way to get your first clients signed on.
"Everyone in my first cohort of students is someone I've advised for free," adds Lily Ugbaja, a freelance writing and marketing coach.
But, if you can't quite bring yourself to go the free route – you can consider offering reduced rates at the beginning to get initial clients through the door.

"I helped the first one for very low rates," says Dr. Nsisong Asanga, who used to coach people taking the International English Language Testing System's language proficiency tests. She'd request testimonials from those early clients and then continued to increase her rates for each client after that.
4. Connect with other coaches
Think other coaches are your competition? Not quite.
Building relationships with other coaches — whether they focus on the same niche as you or something completely different — is helpful for a few reasons. For starters, fellow coaches are a great resource when you need advice. 
From handling an unhappy client to dealing with no-shows, other coaches have the hands-on experience to offer super helpful advice or be a sounding board when you need to commiserate.
But, they can also help you fill your client roster in different and meaningful ways. Here are a couple of ideas:
Connect with coaches who offer a complementary service to yours (for example, if you're a nutrition coach, connect with exercise coaches). They can recommend you (and vice versa) when clients seek additional guidance.
Connect with coaches who offer a similar service to yours. They can refer clients to you when their plates are full.
If you're unsure how to find coaches to connect with, the search function on any social media site will be your most helpful tool. Search for key terms (e.g., "fitness coach) and see what accounts come up.

When you find someone you'd like to get to know better, remember that networking etiquette applies here. Don't jump right in with an ask ("Hey, can you send clients to me?").
Focus on building some trust, rapport, and a mutually-beneficial relationship first.
5. Share your expertise
If you want to reach an even bigger audience, look for other relevant outlets that you could contribute to. 
For example, Caitlin Kelly (writing coach) says several of her clients found her when she spoke at journalism conferences.
Conferences aren't the only option here. You could also:
Contribute guest posts to a relevant blog or website.

Speak on podcasts related to your coaching area.

Participate as an expert in webinars or virtual education sessions.
We'll admit that finding these types of opportunities can feel almost as equally challenging as finding clients themselves. 
But the good news is you've likely already identified some outlets in your earlier groundwork steps. 
Plus, you can always tap your current network again. Particularly if you know, some of your ideal clients are in your existing web of contacts. Ask them:
what sites they like to read,

what podcasts they like to listen to, and

what events they like to attend.
Keep a running spreadsheet of all relevant outlets, and you'll have a living resource of places you can follow, interact with, and eventually pitch yourself to your ideal clients.
6. Engage one-on-one with prospects
You might've noticed that a couple of coaches touched on free consultations. And, we don't blame you if you're rolling your eyes at another mention of "free."
But remember that hiring a coach requires clients to be vulnerable, which leads to a pretty personal relationship.
It makes sense that potential clients want to get a feel for what you're like to work with before making any investment.
Your goal with these initial consultations (or discovery calls) is to build some rapport, discover more about the prospect, and share something about your program — not to give away all of your best stuff for free. 
You can even limit your consultations to around 15 minutes to ensure people get what they need to see if you're the right fit without these free obligations monopolizing your time and calendar.
Want to make these consultations even more streamlined and scalable? Use Clarityflow to communicate asynchronously. 
You'll have all of the benefits of face-to-face communication without having to schedule live calls during the pre-engagement phase with a prospect.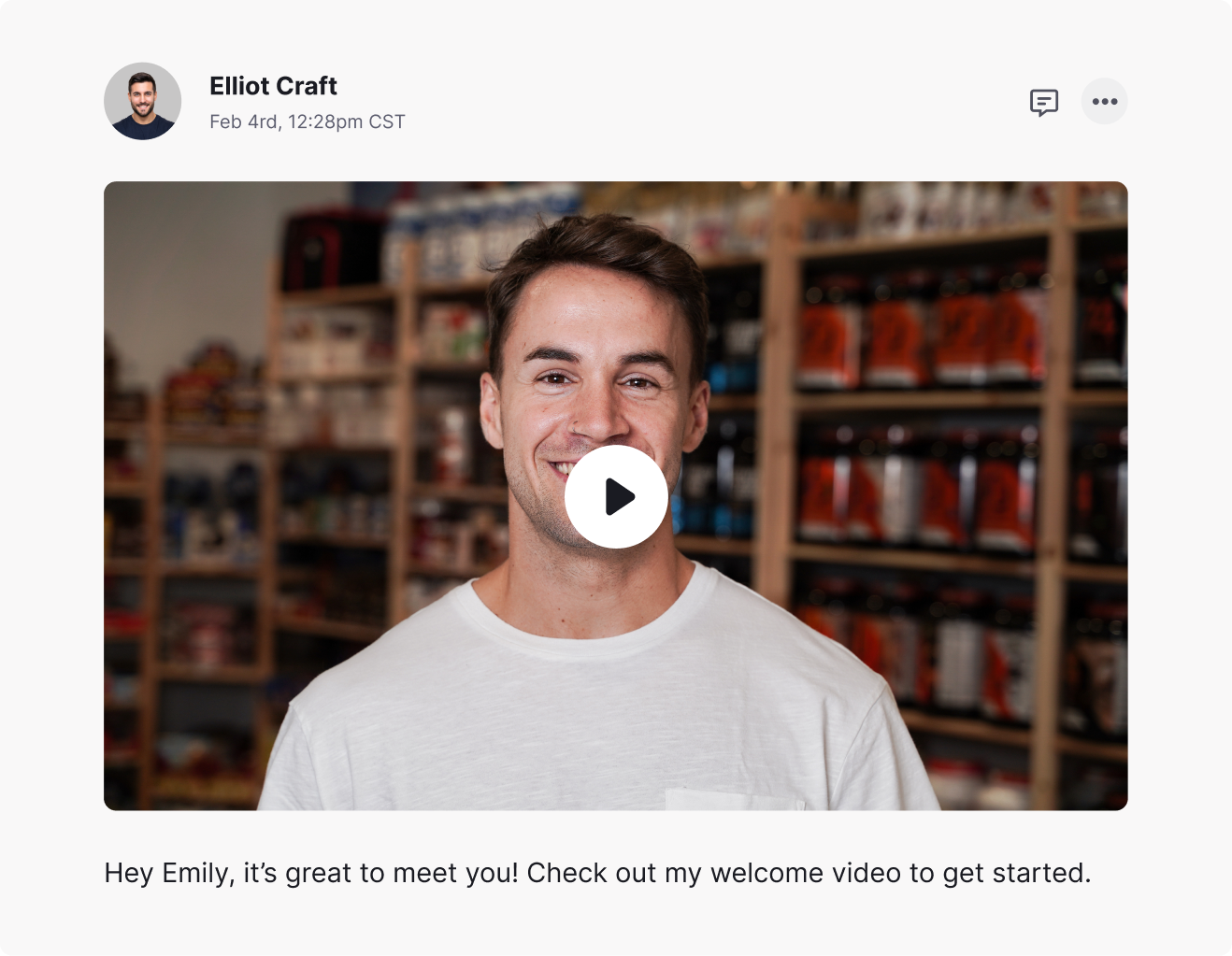 Go from crickets to clients
Launching your coaching business takes a lot of work. And after you summit that peak? You quickly realize that you face another lofty challenge: finding some paying clients.
It feels like a daunting task. But the good news is that you can take some tactical steps to promote your new coaching business or program — without feeling sleazy or inauthentic.
Put some (or all) of these tried-and-tested strategies to use, and you'll be well on your way from an empty inbox to a full roster. 
Need a better way to meet, evaluate, and onboard new coaching clients? Use Clarityflow to start the conversation. Grab your free account here.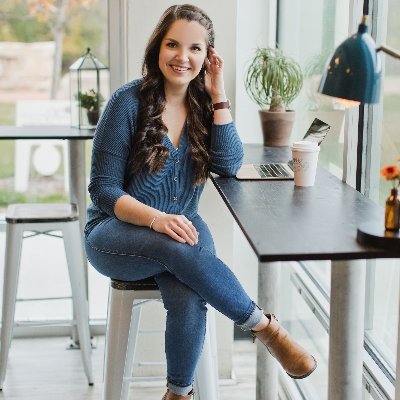 About the author
Writer and coach for freelancers offering tips, guideance and career advice.