How to Create a Coaching Program: Your Step-by-Step Guide
Kat Boogaard
·
December 5, 2022
Making a living as a coach isn't quite as easy as saying, "I offer coaching now!" and watching as the clients (and dollars) roll in.
People who open their wallets and hand over money for a coaching service expect that you have a more refined coaching program — a structured offering that you've put some thought and planning into.
Sound intimidating? It doesn't have to be.
In this guide, we'll cover how to create a coaching program that attracts new clients and helps them achieve impressive results.
Why do you need a coaching program?
The truth is that a lot of coaching is personal — you'll undoubtedly tailor your sessions, programs, and resources to meet your client's unique needs.
That makes it easy to look at a coaching program as a rigid or limiting concept as if it'll only box you in and prevent you from providing the personalized and targeted coaching service you pride yourself on.
Rest assured, that's not the case. A coaching program does involve a more tangible offering and a loose structure, but there's still plenty of room to adapt to your client's specific goals and challenges.
Still not convinced? Here's why it's helpful to go beyond generic "coaching" and pull your services into a more formalized program:
Ensure you and your clients are aligned: Creating your coaching program requires that you get crystal clear about what you offer — everything from how long the program lasts and what resources are included to what results clients can expect. That level of clarity about what you'll deliver upfront limits misunderstandings and disappointment.
Boost your clients' accountability: A coaching program means your clients know what they can reasonably expect from you — but they also know what you expect from them. As a coach, you can't guarantee someone's success. Only they can do that. When you have a more formalized coaching program, they have more visibility and a better understanding of the flow of their sessions and what sort of progress they need to make.
Improve your own consistency: Remember, there's still plenty of wiggle room to tailor your program to match a specific client. However, a coaching program gives you an outline to start from. That means that you'll deliver a reliable and consistent experience to all of your coaching clients, even if they don't have identical journeys or challenges.
Save yourself some time: None of your coaching engagements will be copy-and-paste versions of themselves. But, as mentioned above, starting with at least a loose skeleton of your program (and supplementing with more tailored resources and sessions) means you don't have to reinvent the wheel and can save yourself some time and effort. That means less time doing rework and more time focusing on the unique needs and experiences of your clients.
Create a more salable offering: Creating a coaching program requires that you get specific about everything that your offering includes as well as what results people can expect. That level of detail is reassuring and feels more substantial than random one-off coaching sessions, which means you might have an easier time selling a more refined program (even if it has a slightly higher price). Put simply, people have a better understanding of what they're paying for.
What makes a good coaching program?
The ins and outs of your coaching program will hinge on what type of coaching you offer, what format you use for your program, and what specific needs or requests your clients have.
Those details matter, but there are a couple of general best practices that apply to any solid coaching program — regardless of the specifics:
Solve a relevant problem: If you boil down any of your coaching services, they all aim to help your clients address a relevant problem or achieve a pertinent goal. The same applies to your coaching program. It should clearly state the need that you fulfill, whether that's helping people get out of debt, overcome imposter syndrome, or shake unhealthy habits.
Deliver a firm result: Similarly, you should be able to explicitly state what the end game is for them. What will they ultimately accomplish? For example, a coaching program that promises to help clients improve their lives feels empty and directionless. In contrast, helping them find more confidence or land a promotion is far more specific. You can make this point even stronger by backing it up with numbers, anecdotes, testimonials, and even your own experience.
In short, any coaching program should be built upon an unshakeable understanding of what your ideal clients are struggling with and how you can help them solve it.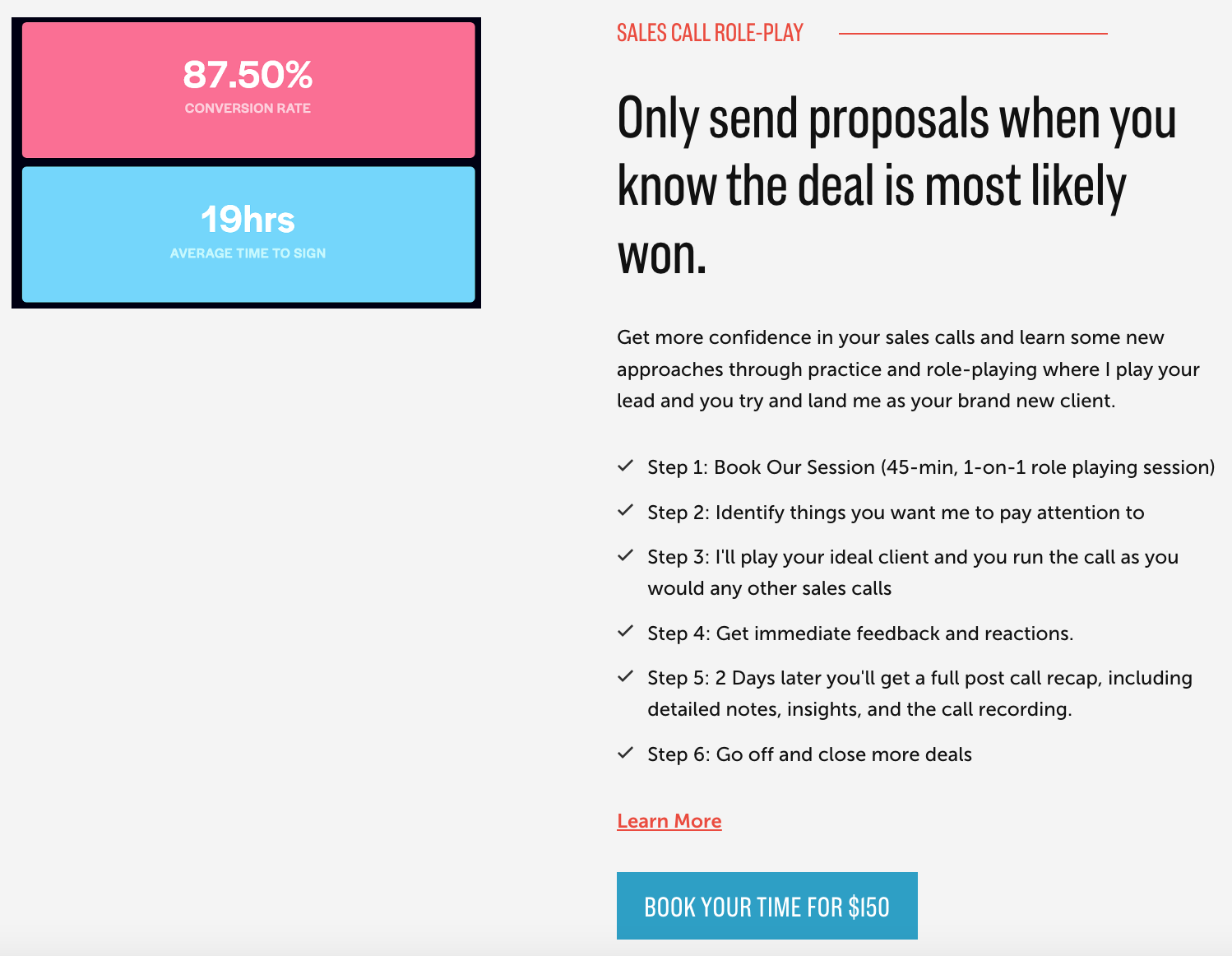 Freelance coach Jason Resnick spells out exactly what clients can expect when they purchase his sales call role-play.
How to structure your coaching program: 6 steps to go from nothing to launching
With that foundation in place, you're ready to start piecing together your actual program. Whether you're brand new to coaching or have been doing this for years and are looking to create a more structured offering, here are the steps to take to create your coaching program.
1. Determine your format and cadence
Start with the delivery and format of your coaching package or program. Will you do one-on-one sessions? Will those be done live, asynchronously, or both? Will there be a group coaching element? Is there a specific course or curriculum your clients will follow?
As you work through these finer points, you'll also need to think through your timing or cadence. Will your coaching program extend for a certain length of time? Or for a certain amount of sessions? Or until a particular result is reached? How often will you conduct sessions? How long will your sessions be?
Your goal here is to iron out the details of your overall coaching package approach — the nuts and bolts of what you offer, how it's offered, and how long it's offered.
There aren't necessarily any right or wrong answers here. The important thing is to get your ducks in a row so you can move on to the next steps with that knowledge in your back pocket.

Podcast coach Christine O'Donnell showcases what's included in her podcast strategy sessions.
2. Create a client assessment
In the majority of cases, your coaching engagement will kick off with a client assessment. This is a questionnaire that your client completes to share their goals, challenges, expectations, and any other information you need to collect in order to help them effectively.
You'll of course want to ask clients for their names, contact information, and other basic details. Beyond those, you have plenty of flexibility to ask questions that are most pertinent to your coaching business, but a few sample ones include:
What are you hoping to achieve through this coaching program?

Have you tried coaching before?

How do you learn best?

How do you prefer to receive feedback?

How do you define success from your coaching sessions?
You could create a simple Google Form, embed a questionnaire on your website, or even use any form tools that your coaching software includes. Reassure clients that you're the only one who will see their responses and that the effort they put into completing the form as honestly and thoroughly as possible will be helpful as you move through your coaching sessions.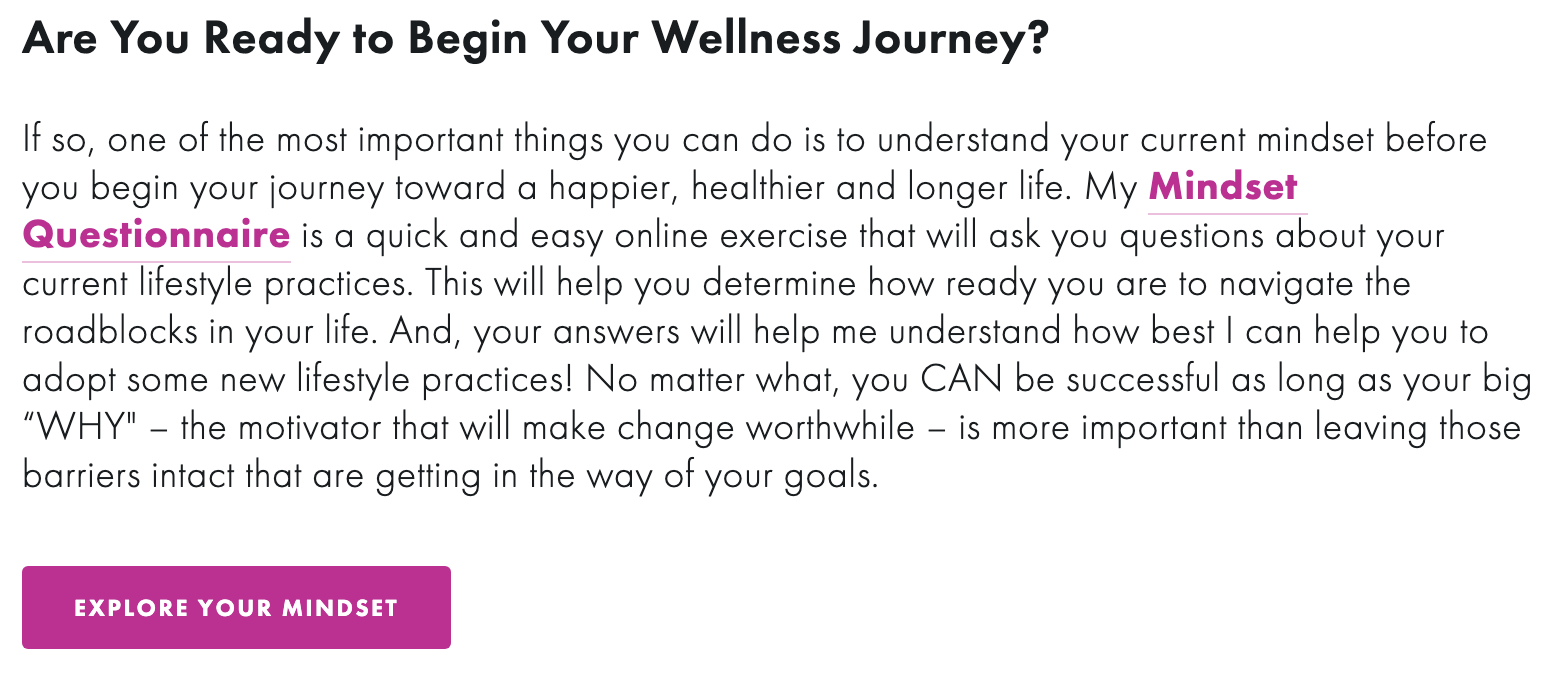 Wellness coach Kim Eagan, H.C. includes a link to her Mindset Questionnaire directly on her website.
3. Map out your activities or milestones
While your coaching program should be adaptable, the whole point of the program is to have some sort of structure in place — sort of like a coaching template that you can repeat as a starting point for all of your clients.
To make that happen, you need to create a roadmap of the different lessons, activities, and milestones that your clients will move through. Once they complete the pre-coaching questionnaire, what can they expect from the first week of the coaching engagement — and beyond?
As part of this step, you'll want to iron out the details of how your coaching program will be structured, including the timing of your sessions, the subjects you'll cover in each, what resources or homework people will need, and any results or deliverables that should be completed at certain times.
Pull this into a week-by-week timeline or plan that you can reference, but also share with your coaching client. You'll both use that as your game plan for your coaching engagement — and there won't be any surprises about what's coming up next.
4. Create your resources
With the standard flow of your coaching program all mapped out, it's time to pinpoint the exact resources you need to create to build out your program.
Are there certain exercises you want to research or develop for your one-on-one or group coaching sessions? Are there supplemental downloads — like templates or workbooks — that you need to set up to include with your program?
How much elbow grease you invest in this step will depend on the format, duration, and complexity of your coaching program. Some coaching programs are supplemented with super-structured lessons and huge resource libraries while others keep things more lean and streamlined. It's all about what works best for you, your program, and your clients.
5. Launch your coaching program
You've pulled together your coaching program and are ready to push it out into the world and fill your client roster.
If only it were that simple, right? Finding coaching clients (especially your first ones) is tough, but there are plenty of ways you can spread the word about your new coaching program, including:
Telling your existing network about your newest offering

Announcing your new program to your existing clients, email list, and on your social media accounts

Providing free value and establishing trust through webinars, blog posts, and other educational resources

Building your reputation by contributing to relevant blogs, publications, podcasts, and more

Listing your business in popular coaching directories

Connecting with other coaches (particularly those with complementary offerings) so you can refer work to each other

Answering relevant questions on Quora, Reddit, social media, and other forums and including a subtle plug for your program
You know by now that coaching isn't a "build it and they will come" sort of thing — you need to be assertive about getting attention for your business and your coaching offerings.
6. Collect feedback on your program
Your clients will learn a lot through your coaching program — and so will you. That's especially true if you regularly seek (and act on) client feedback. Doing so means you can improve your coaching engagements, as well as your future programs.
This feedback gathering process can take a couple of different forms, including:
Coaching feedback: These surveys aim to collect feedback on your program, your coaching style, and how satisfied your clients are with the service they're receiving. While constructive criticism is always a little hard to hear, this is valuable information you can use to make strategic improvements to your coaching approach.
Client evaluations: These questionnaires are focused less on your program and overall coaching style and more on the client's progress. Are they accomplishing what they wanted to? Are there areas where they feel like they're struggling? Are there other specific goals they want to work toward in their next few sessions? Think of this evaluation as your way to monitor a client's progress, as well as their feelings about it.
How often you collect this feedback will vary based on the frequency and duration of your coaching engagements. But, your general rule of thumb is that feedback is best served regularly — not just at the end of your coaching relationship.
Get with the (coaching) program
The reality is that most coaching clients expect you to have a more refined program in place, beyond offering random, one-off sessions.
And, while creating a coaching program involves a little bit of upfront effort, it's well worth it for the advantages you'll experience, including better alignment with your clients, increased accountability, improved consistency, major time savings, and a more salable coaching product.
So, consider this your nudge to pull together a more structured coaching program. Doing so will benefit your clients and your business.
Want to add more value to your coaching packages (without more live calls)? Talk to your clients with Clarityflow. Grab your free account here.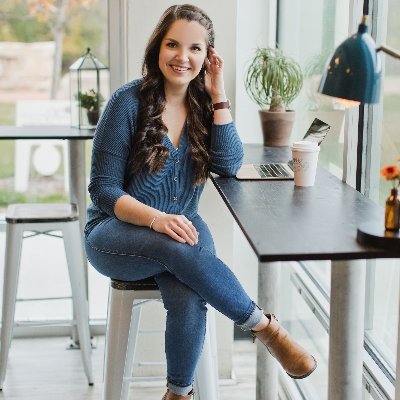 About the author
Writer and coach for freelancers offering tips, guideance and career advice.