How to Create a Profitable Coaching Package [template + examples]
Claire Emerson
·
November 26, 2022
For a coach who wants to spend more time coaching — rather than selling — an enticing and well-structured coaching package is a valuable asset.
You can use it as part of your call script, a sales page on your website, a series of emails, or all of the above!
But where do you begin with actually crafting your offer?
How do you pull it together, structure it, and help it stand out?
Even with the highly customized nature of coaching, starting with a template is always easier than starting from scratch. And today, we're sharing a template you can use to craft the perfect coaching package offer.
Along with several excellent examples to get your creative (and coaching) juices flowing.
In this article, you'll find:
The Coaching Package Template: 10 invaluable questions to help you structure your first offer
If you struggle with the selling and self-promotion side of the business, tried-and-tested frameworks can help you bypass ground zero.
And thankfully, a successful founder and consultant friend (Brennan Dunn) once shared that if you can answer these ten questions — you'll have the blueprint for creating an irresistible offer.
The ten questions work as a foundation for selling (and articulating) what you do, and the results you can get for your clients:
Who are you selling to? Think about past clients, people you've helped adhoc, and the problems you'd be happy to help solve for the rest of your life. This will give you an idea of who you'd enjoy working with, not just who needs your help.

And what do they want? Highlight a few of the big-picture wins they'd be ecstatic to see on their board in the next couple of years and consider the new identity they'd like to own.

What is the Pain? Describe the "world of today" and what's got them stuck or struggling.

What is the Solution? Describe the "world of tomorrow" and what might be possible if they can focus and follow through with their plans.

What is the Offer? Describe how you'll go from here to there. Let them know the details and process behind the transformation they hope to achieve.

What is the Goal? Define a specific result they can achieve. Think about small (or big) projects they can work on to help them meet their aims in life.

What is the Risk? Explain what's at stake by staying in the "world of today."

What Social Proof can you share? Provide examples of who has already blazed this trail before. You can use past client testimonials, data-backed research, and examples of people "just like them" who have made it happen.

What Objections do they have? Address what might keep somebody from attempting to go from here to there. Think about what they might have tried before (whether it worked), financial hang-ups about the investment, and time commitment issues.

What highlights your Uniqueness? Illustrate why there is no time like "right now" and no one like you to guide them there.
Of course, when you're pulling together a new coaching package, there are other things like:
Naming your coaching package

Pricing your offer, and

Outlining any specific extras you include for your clients.
But they're minor details to worry about.
Ultimately, if you can tell the right story – to the right person — and back it up with proof, you've got all the elements you need to create a profitable coaching package.
5 Types of Coaching Packages That Sell (really well!)
High-value clients want high-value service.
So a solid strategy is to incorporate a mix of live sessions, asynchronous access, and additional lessons, ideas, and action items (think: self-paced course or ebook) into your coaching package to add more value.
You've likely got some excellent resources hiding in your business sawdust, so packaging those together as bonuses and additional help for new clients is often icing on the cake (not to mention it will help with retention.)
But outside of boosting the value of your coaching package with fun extras — you can also think about the style and format of your coaching when crafting your offer.
There are plenty of differentiators to consider, like:
What is the length of the program?

What is the schedule and commitment required?

Is it an individual or group setting?

Is there homework, or is it all done on a live call?

What is the level of access they get to you?

Is it all remote, or is it an in-person offer?
Here are five coaching package options that work well in the wild:
Individual intensive sprints or signature packages

Group accelerators and fixed-term cohorts

Customized Long-Term Retainers

Subscriptions and Memberships

Leadership Retreats
Let's take a look at some examples below!
1. Individual Intensive Sprints or a "Signature Package"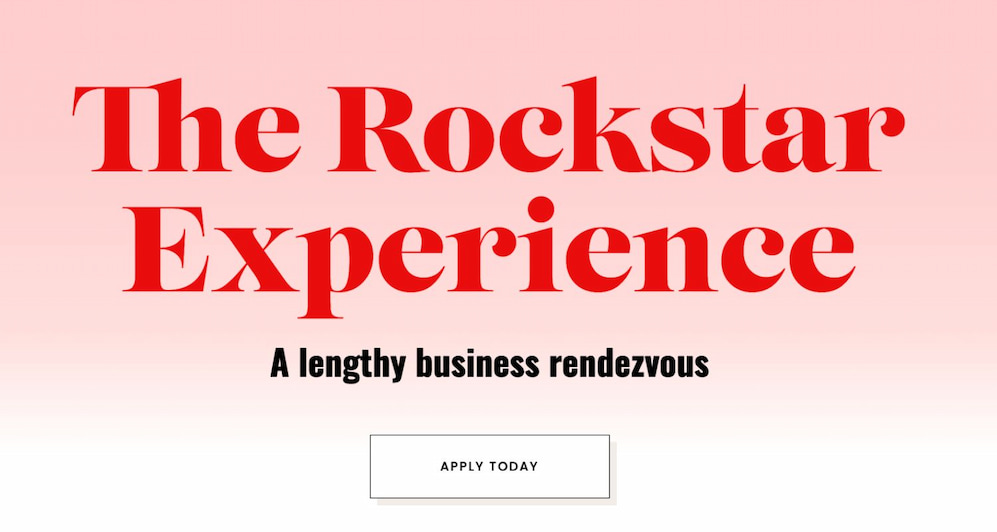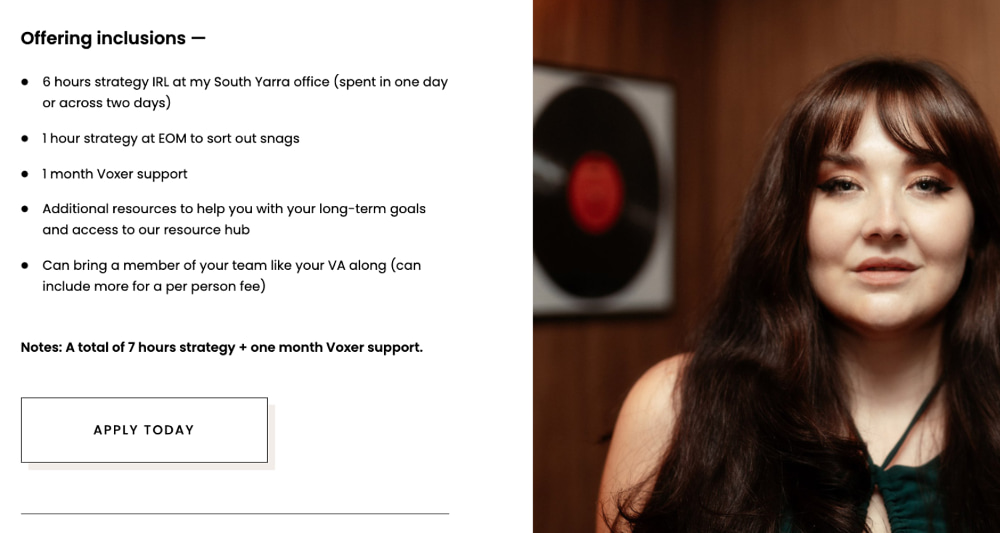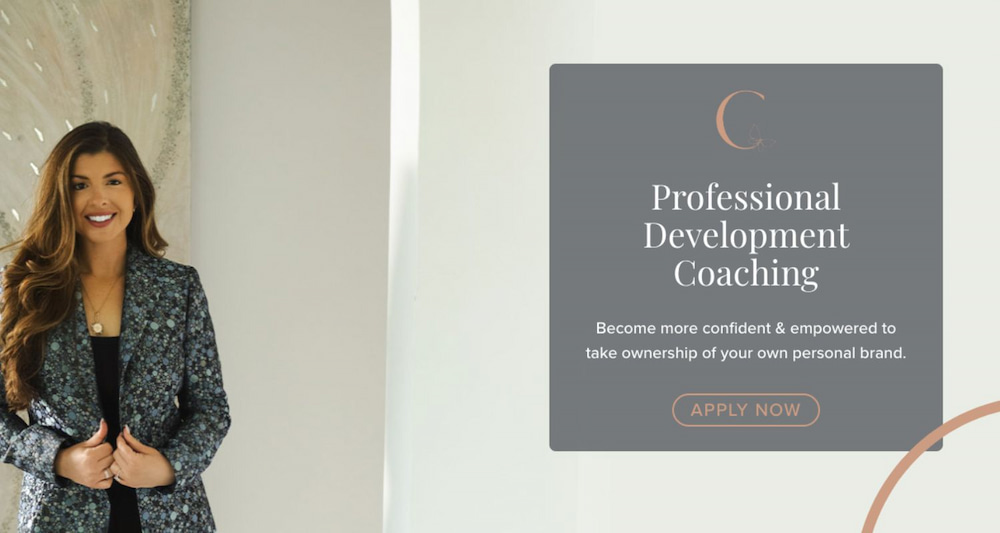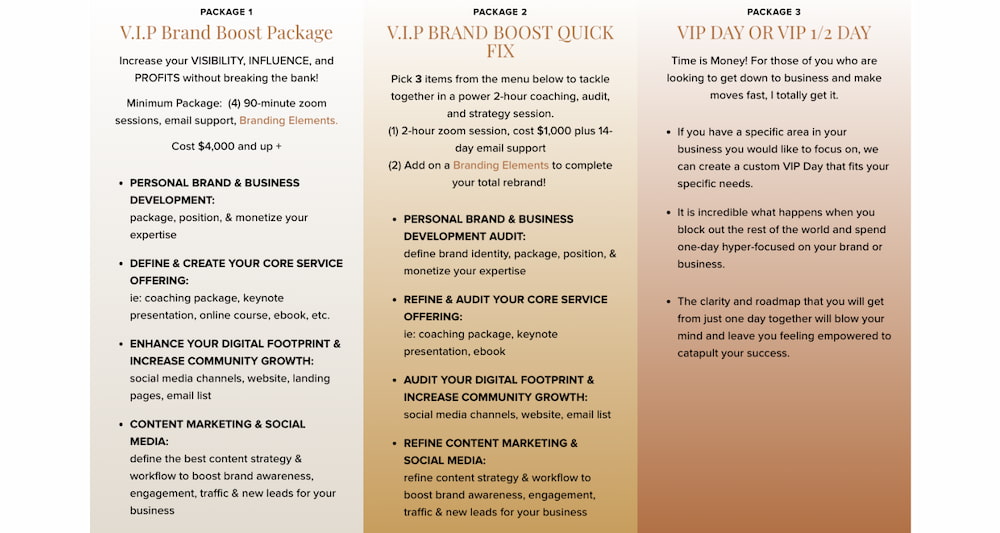 2. Group Accelerators and Fixed-Term Cohorts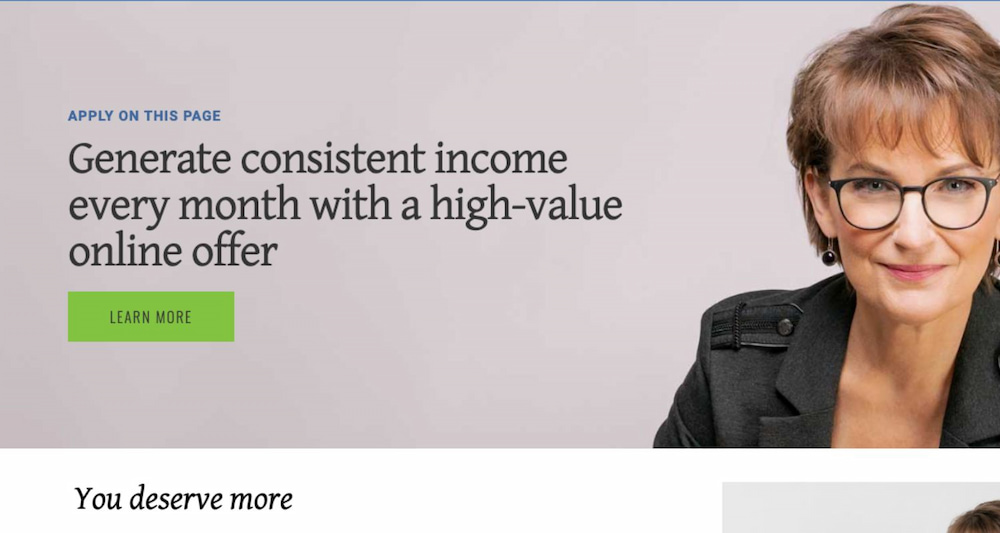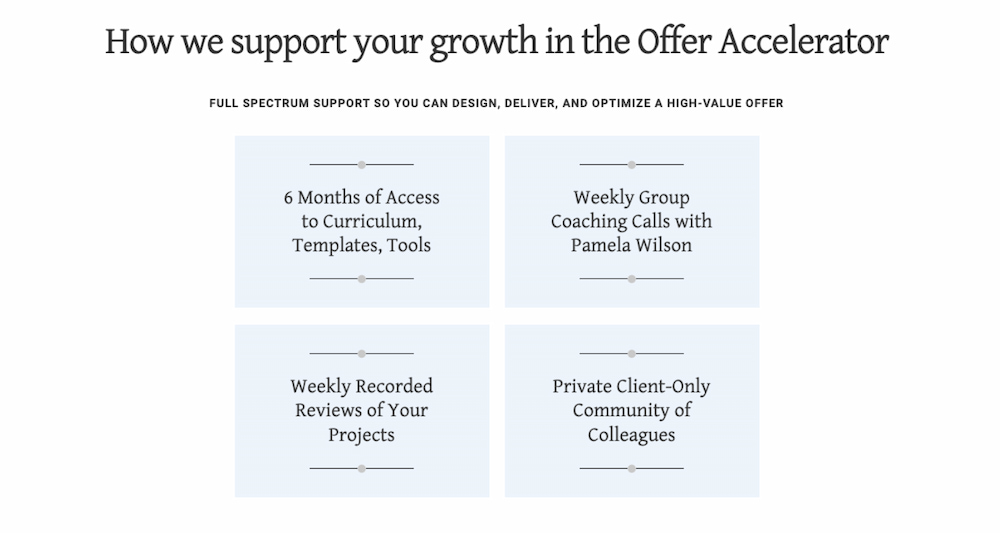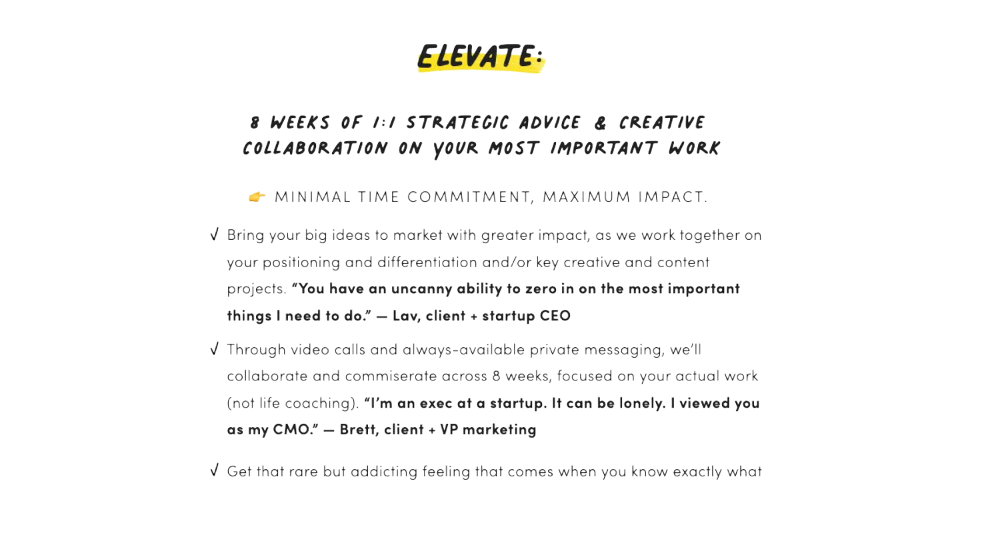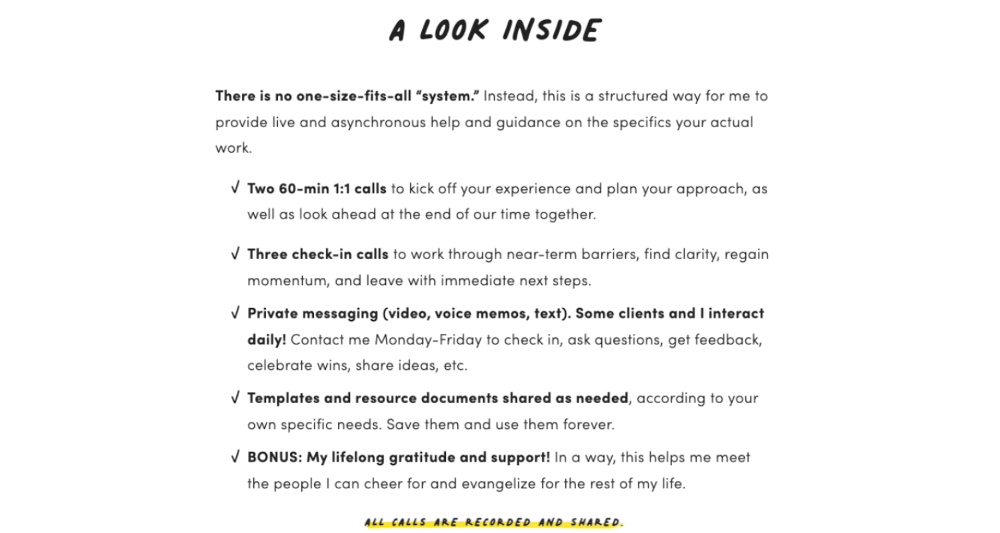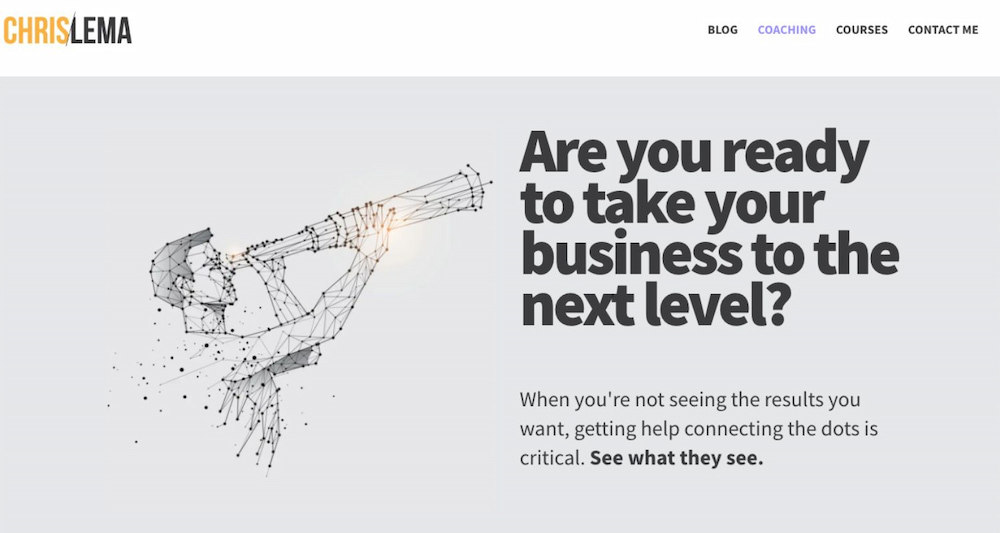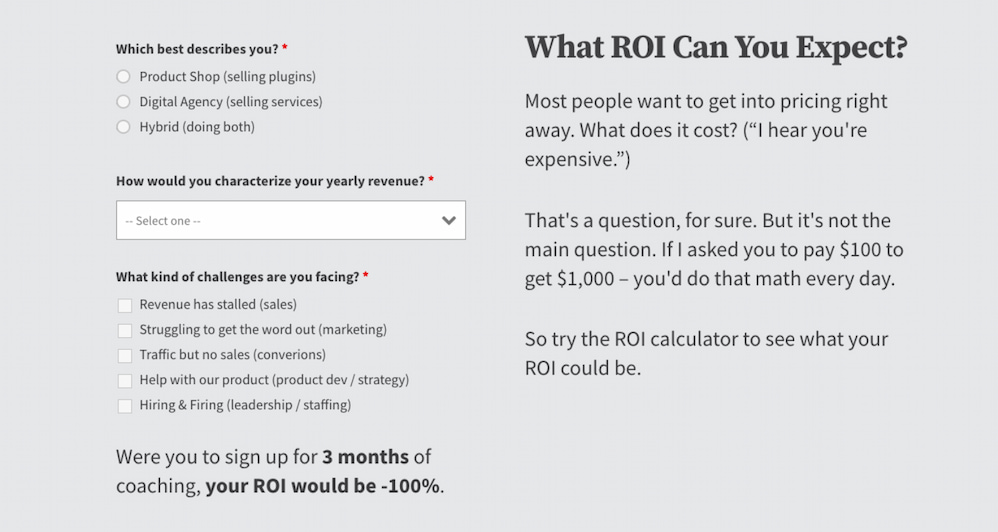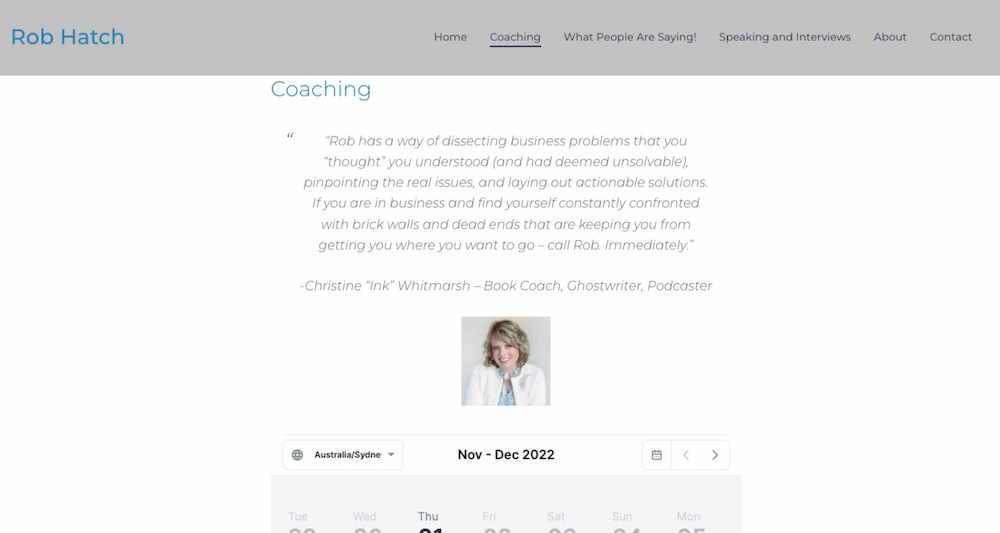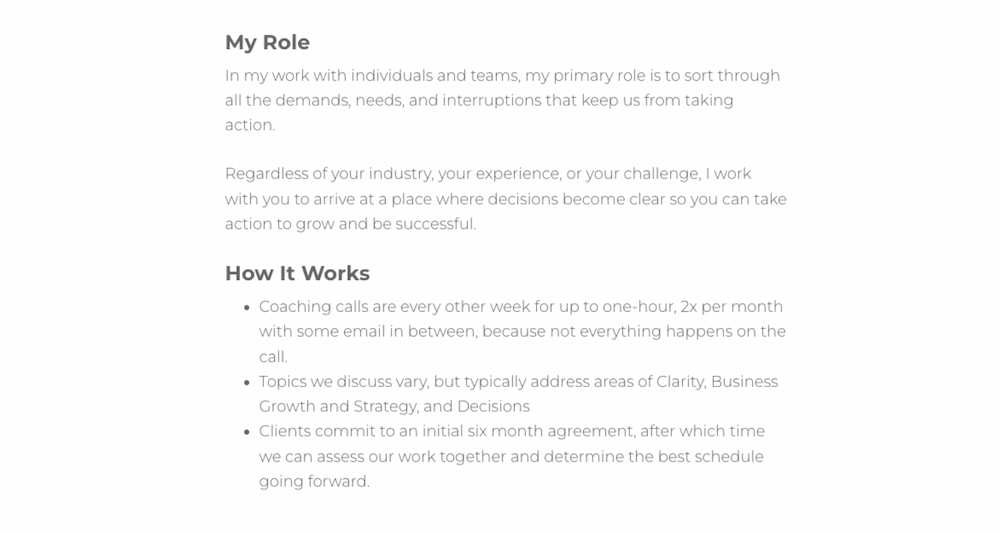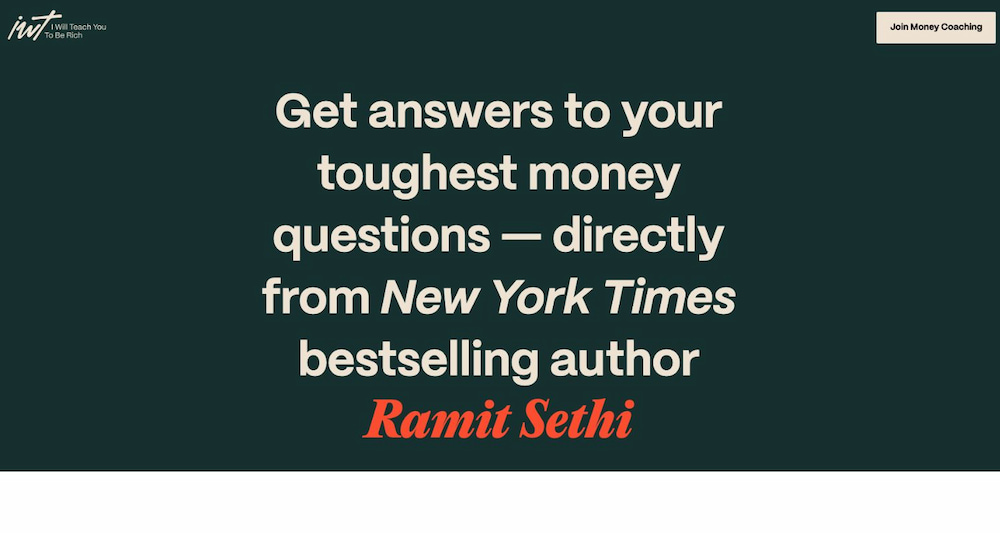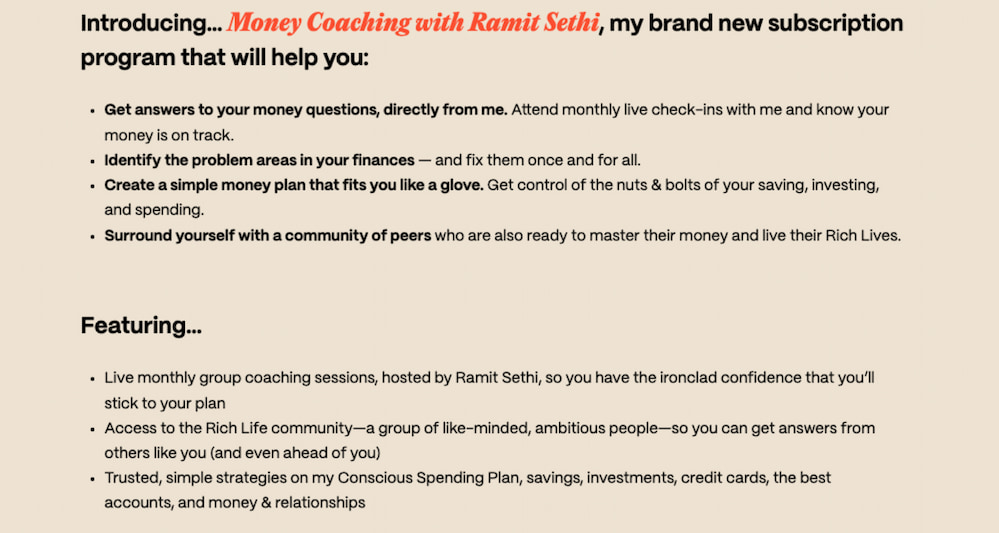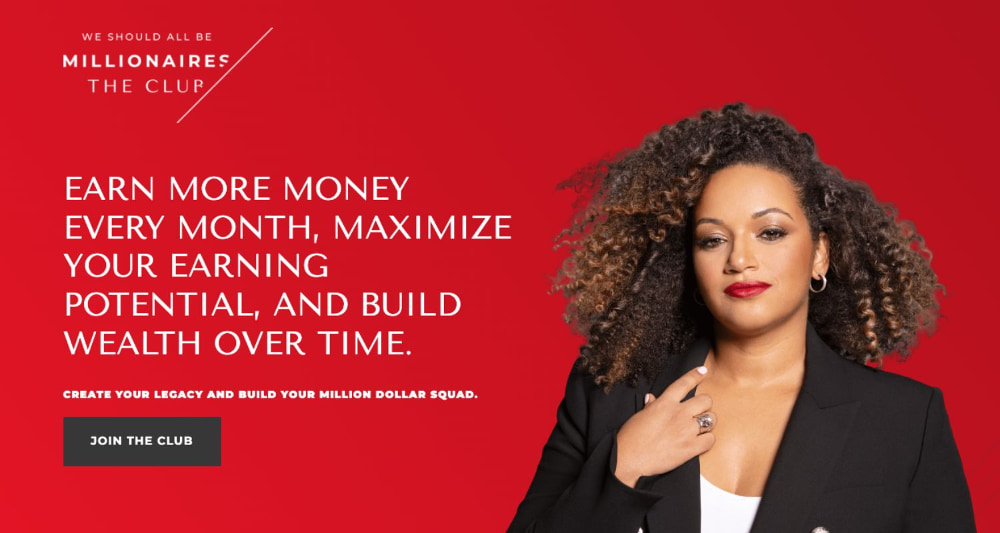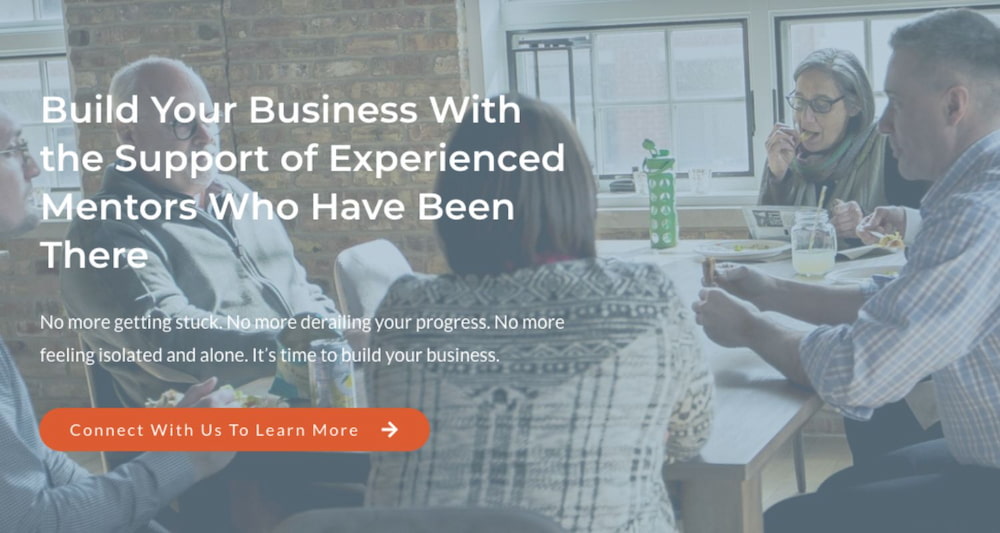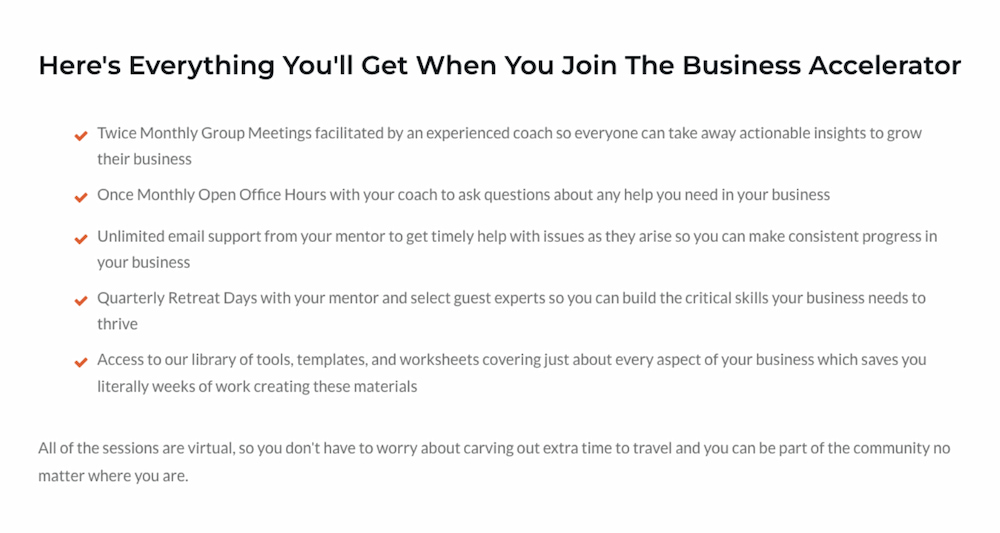 5. Leadership Retreats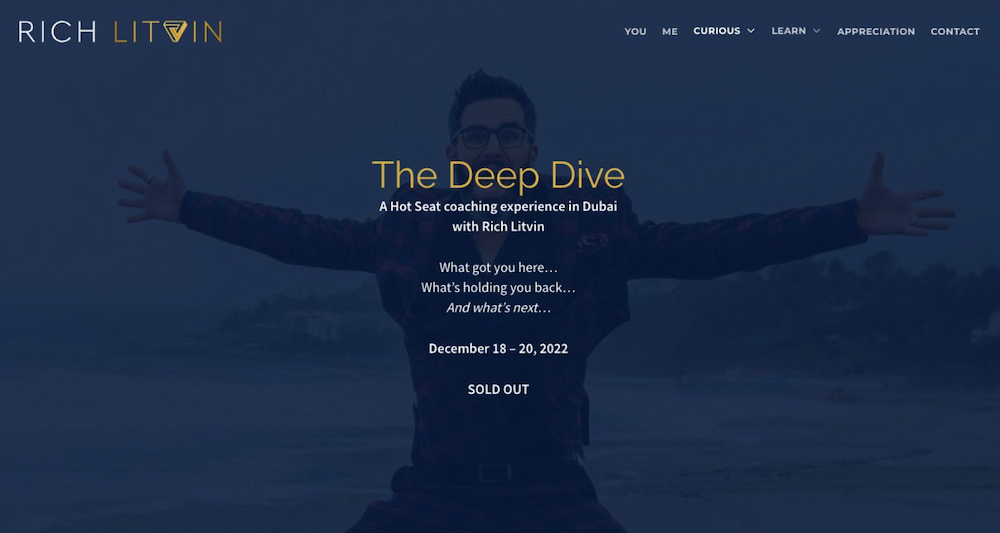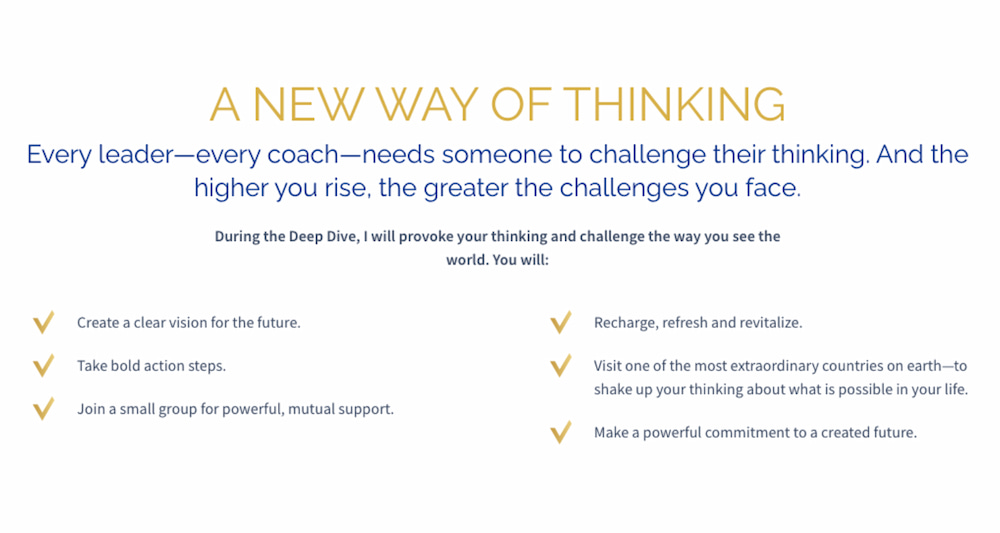 Now that you've got some examples to work with let's look at what you should pay attention to when reviewing other people's offers.
Pay Attention! What to look for in a coaching package template
A great way to create a profitable coaching package is to:
Review successful offers from other coaches

Use them as a springboard for crafting your own package

Figure out what works (and what doesn't) from there,
Of course, you'll want to look beyond just the summary (or the above snapshots) of the examples we've gathered. The devil is the detail!
Four things to pay attention to when you're reviewing any of the examples you like:
Structure: What is the page structure? What do they lead with? What social proof do they offer, and how often do they sprinkle that in? What's the CTA (call, payment, application, etc)?

Storytelling: How do they reel in their ideal client with a narrative? In what way do they sell the result? Can you identify exactly who they're talking to, and the problem they're solving?

System: How do they describe what it's like to work with them? What's the process? What reassurances do they make?

Package: What's included in the cost? What bonuses do they get? Are there any "upgrades" to purchase?
Using a template isn't about copying and pasting someone else's work — it's about using exceptional examples to help you structure your offer, refine the story you tell, and develop the system that takes your clients from "here to there."
A 3-step Formula for Finding, Capturing, and Convincing New Coaching Prospects
Before we leave you to peruse all the examples and nut out the answers to all those important questions…
We thought we'd throw in a few ideas to make sure whatever amazing coaching package you come up with — get's as many eyes on it as possible.
It's likely you already know how important building an audience is (especially since you're in the coaching biz and building credibility is so critical!) — so here is a three-step formula for finding, capturing, and convincing new prospects:
Create a delectable lead magnet (a freebie) that does most of your sales heavy lifting. You want to get to the "know, like, and trust" stage as quickly as possible. I'm partial to a "free email course" as it leverages automation.

Promote that excellent free thing on relevant podcasts, at conferences, in your author bylines for guest posts, on social channels, and in other people's newsletters. Focus all your energy on promoting that (not your services).

Nurture that new audience member and promote your coaching services when they're ready for them. Most people won't buy from you immediately, so it's your job to stay top of mind. You can nurture and qualify new leads asynchronously via email and Clarityflow.
It takes so much of the stress out of selling and self-promotion (especially when coaching is a new avenue for you) when you're simply offering up something super valuable — for free — and using that to build a new relationship.
And if you can get the tech to handle the bulk of the back-end work — onboarding, nurturing, and qualifying new coaching prospects — it's a game changer.
Don't Start From Scratch! Use this template to get started
Putting a profitable coaching package together can feel daunting. But you don't have to start from scratch.
Use the template and examples we've shared today to skip the hard part — getting started.
You want to get your first iteration up and running as soon as possible, so you can test and tweak your package accordingly.
The TL;DR version:
Determine what your ideal coaching package would look like. What do you want to include in it? What do you want your clients to get out of it?

Research what other coaches offer and what their clients say about their services. See what others in your field are doing and what people are looking for.

Put together a proposal for your coaching package. Remember that your clients are the heroes in this story (not you!), so make it all about them.
Want to add more value to your coaching packages (without more live calls)? Interact with your clients asynchronously with Clarityflow. Grab your free account here.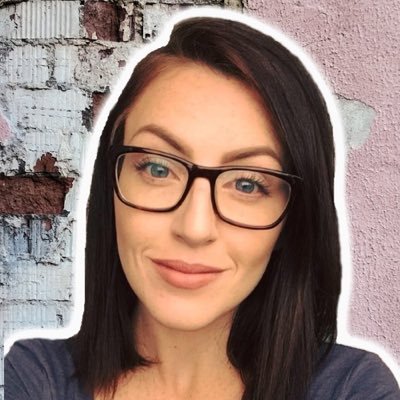 About the author
A writer and coach who focuses on self-management for creators