How to Become a Remote Life Coach: What You Need to Know
Kat Boogaard
·
November 24, 2022
Your career feels way more rewarding when you can quite literally see the results of your efforts — when it's obvious that your hard work made a meaningful and measurable impact.
Doctors get to see the patients they saved go on to live happy and healthy lives. Teachers see the students they educate pursue other challenges.
And life coaches? They get to build fulfilling careers around one of their greatest passions: helping other people.
Even better, today's technology means they can do so without ever leaving their own home.
If you think remote life coaching could be a good fit for you and your own career ambitions, this guide breaks down the basics you need to know, including:
What is a remote life coach?
A life coach is someone who uses their knowledge and expertise to help their clients overcome challenges and achieve their goals. That's intentionally broad, as there are life coaches in a bunch of different categories:
Business coaching

Career coaching

Finance coaching

Mindset coaching

Relationship coaching

Wellness coaching
That's not an exhaustive list, but it's enough to give you an idea of all of the different specialties that can fall under the life coaching umbrella.
So, then what's a remote life coach? It's a life coach who offers their guidance and services remotely — meaning they don't meet with their clients in person and instead conduct their sessions online using various digital tools.
How to become a remote life coach
What does it take to become a remote life coach? There are no hard and fast rules here.
Many life coaches have bachelor's degrees or other types of formal education in their specialty area, while others don't. Some life coaches pursue relevant certifications, while others don't think it's necessary.
While there isn't a super-defined path or list of career prerequisites to become a life coach, there are a couple of important elements you should nail down before hanging out your shingle:
1. Define your niche
As we mentioned above, life coaching is pretty broad — which means marketing yourself purely as a "life coach" can make it tough for people to understand whether or not your expertise is the right fit for them.
So, start by narrowing down the area you want to (and are qualified to) coach people in. Do you want to help them thrive in their careers? Forge and maintain positive relationships? Find more confidence?
Once you have that starting point, challenge yourself to get even more specific. As counterintuitive as it seems, narrowing your focus will help you market your coaching business more effectively and find your ideal clients. Beyond identifying the area you offer coaching in, ask yourself questions like:
Who do you serve?

What do you help them achieve?
That will help you promote your new coaching business in a way that's clear, unmistakable, and effective. Here are a few examples:
Instead of: Career coach helping people find careers they love.
Try: Career coach helping marketers navigate major career changes with strategy and confidence.
Instead of: Mindset coach helping people find more confidence.
Try: Mindset coach helping professional women overcome imposter syndrome and proudly own their expertise.
2. Understand your expertise
Knowing the ins and outs of what you offer is important — but you also need to figure out why you're the best one to offer it. What qualifies you as a professional or an expert in this area?
Your educational background can come into play here, but it doesn't have to. There are plenty of different ways you can establish credibility in your chosen specialty, including:
Pursuing formal education

Securing a relevant certification

Emphasizing your own experience and results
The important part is to know what unique proficiency, perspective, and background you bring to your coaching area so you can tout that in your marketing materials when the time comes. If you want clients to trust you, you must assure them that you know what you're talking about.
Getting your own remote life coaching business up and running
A career as a remote life coach doesn't have to mean starting your own business — there are companies that hire life coaches to grow their own businesses or serve their employees. However, many (but not all) of those positions will require relevant formal education.
If you're interested in getting into remote life coaching because you want to do your own thing, here are a few steps to start your own remote coaching business.
1. Iron out your coaching packages
Start by ironing out your coaching packages, meaning the exact offering (or offerings) that clients can purchase from you:
How many sessions can clients purchase?

What is the duration of your coaching engagement?

Will you offer any other resources?
For example, perhaps your coaching package will include six weekly finance coaching sessions and a budget workbook.
You can have numerous different packages available. The important part of this step is understanding exactly what clients can purchase so you can promote those offerings accordingly.
2. Set up your online presence
Most potential clients will find you or search for you online — especially when you offer your coaching services remotely. In those cases, clients won't shake your hand. Your online presence is how they'll "meet" you and learn about you.
That's why it's worth polishing your presence and making your coaching services known. Here are a few ways to get started:
Add coaching to your social media bios, headlines, and profiles, so you show up when people search for you on those platforms

List your coaching business in coaching directories like CoachCompare or Noomii

Set up a website for your coaching business (work with a professional if you're stuck!)
When people find you or your coaching business, you don't want them to find a dusty LinkedIn profile that hasn't seen any activity since 2018. Take the time to brush up on your online presence to immediately establish trust and credibility.
3. Tell your network
Don't overlook the value of your existing network when launching your coaching business. People you're already connected to could be willing to spread the word about your services or send potential clients your way.
You don't get what you don't ask for. Customize and use this simple email template (personalize it every time, rather than sending a blanket email) to reach out to your contacts and announce your business:
Hi [Name],

I hope you're doing well! [Add another personal anecdote or check-in, if applicable].

I'm touching base with some exciting news: I've launched my own coaching business! I'm using my [education or experience] to help [ideal client] achieve [goal].

If you hear of anyone looking for this type of service, I'd so appreciate you passing along my name. You can learn more about my new coaching business on my website: [website link]

And of course, if there's anything I can do to support you, don't hesitate to let me know. I'm happy to help!

All the best,
[Your Name]
4. Get the right tools
Because you're offering your coaching packages online, you'll need the right coaching apps and tools to ensure your sessions and engagements run smoothly.
The exact tools you'll need will vary depending on your needs and coaching business. You might want a platform to streamline your project management or a system to manage your administrative tasks.
Since any type of coaching involves a lot of back-and-forth communication with your clients (including before, after, and between any live sessions), there's one tool you'll absolutely want in your arsenal: an asynchronous messaging tool.
Clarityflow makes it quick and easy to swap video, audio, and text messages with your clients in a threaded conversation. You can keep communication open with your clients without clogging up your calendar.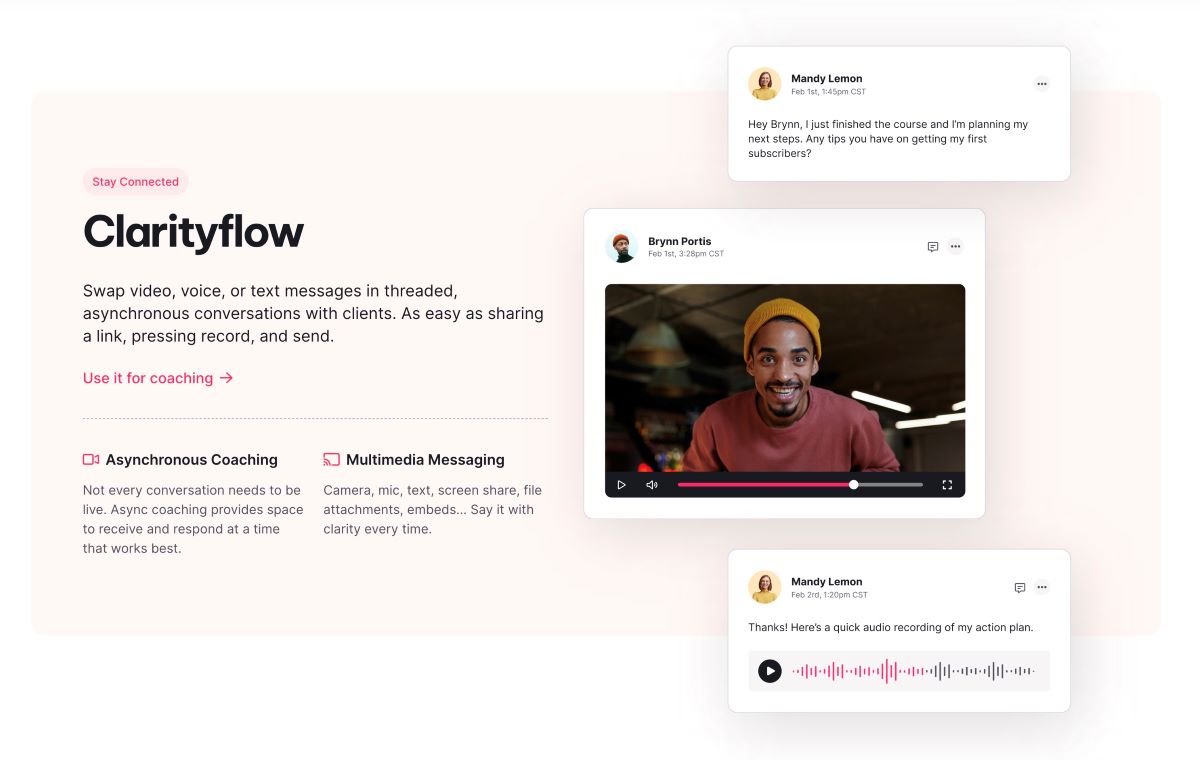 5. Create a coaching agreement
Before bringing any coaching clients onboard, it's smart to create a simple agreement that both of you can sign. It aligns both of your expectations upfront and helps prevent any issues down the line.
This agreement can be as simple or complex as you need it to be. Either way, it should outline the basics of your arrangement, such as what you're providing, how much you charge, how sessions will be conducted, and how the engagement can be canceled if necessary.
If you feel intimidated by creating your own contract, here are a couple of resources to help:
The above five steps will get your coaching business up and running, but remember that you can continue to iterate and improve your business as you figure out what works well — and what doesn't.
Setting your prices: How much to charge as a life coach
One big question that coaches have when launching their coaching businesses is this one: How much should you charge?
There isn't one tried-and-tested answer here. Different coaches not only set different prices but also use entirely different pricing models. For example, some prefer to price per hour or session while others set a flat price for an entire coaching package.
In terms of hourly prices, estimates state that life coaches charge somewhere between $75 to $200 per hour. Thumbtack data backs up that range, stating that their typical life coaches cost somewhere between $80 and $120 per hour or session.
When setting your remote life coaching prices, try to work backward. Set an income goal for how much you want to earn from coaching that month and determine how that breaks down to a per-hour or per-session cost. For example, if you want to earn $5,000 per month, you need to work 50 hours at $100 each or sell seven coaching packages at $725 each.
It's not a perfect system, and you might have to make some adjustments. But it gives you a reasonable starting point rather than pulling a random number out of a hat.
7 tips to find your very first life coaching client
Beyond setting prices, finding your first coaching client is another hurdle that brand-new life coaches need to overcome.
It can be challenging to get going — particularly since you don't have many testimonials, client results, or referrals to use. Even so, these strategies can help you get the snowball rolling:
Tell your network about your new business (use the email template above!)

Provide free value and establish trust through webinars, blog posts, and other educational resources

Build your reputation by contributing to relevant blogs, publications, podcasts, and more

List your business in popular coaching directories

Connect with other coaches (particularly those with complementary offerings) so you can refer work to each other

Optimize your website for search so that you show up when someone looks for your type of coaching (work with an SEO professional if you need to)

Answer relevant questions on Quora, Reddit, social media, and other forums
Regardless of the tactics, your goal is to get your name out there, establish credibility, and garner some interest in your coaching services — and you won't do that if you keep your lips zipped.
Make a living (and an impact)
If you're looking for a fulfilling career that allows you to make a meaningful difference in the lives of other people, life coaching might be the right fit for you.
Like any other career, it takes a little bit of elbow grease to get up and running, but the effort is well worth it for the satisfaction of achieving your own goal — and then helping your clients achieve theirs.
Want to add more value to your coaching packages (without more live calls)? Talk to clients asynchronously with Clarityflow. Grab your free account here.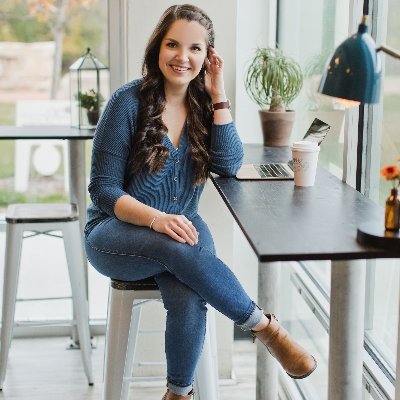 About the author
Writer and coach for freelancers offering tips, guideance and career advice.